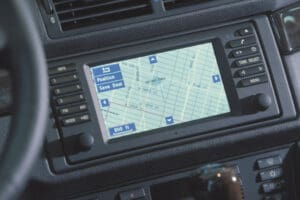 WESTLAKE VILLAGE, Calif. — Vehicle owners are continuing to experience a high number of problems with factory-installed navigation systems, primarily with routing quality and system usability, according to the J.D. Power and Associates 2011 U.S. Navigation Usage and Satisfaction Study(SM) released today.
Now in its 13th year, the study identifies six factors that contribute to overall satisfaction with factory-installed navigation systems. In order of importance, they are: ease of use; routing; navigation display screen; speed of system; voice directions; and voice recognition. The study also measures quality by examining problems per 100 (PP100) navigation systems, in which a lower score reflects higher quality.
On average, owners of factory-installed navigation systems experienced 351 PP100 in 2011. The eight most-frequently reported issues, which account for more than 50 percent of problems reported overall, are:
Address/street/city not found (33 PP100)
Difficulty inputting destination (32 PP100)
Route provided was not direct (24 PP100)
Difficulty using voice recognition controls (23 PP100)
Map doesn't show enough street names (21 PP100)
Couldn't find desired menu/screen (19 PP100)
Map or point of interest search was missing points of interest (16 PP100)
Inability to view screen due to glare (14 PP100)
"Routing—the primary function of a navigation system—is obviously an issue and will continue to be," said Andy Bernhard, director at J.D. Power and Associates. "However, for nearly 10 years, the importance of ease of use has been emphasized by owners, and the continued high level of problems in this area begs the question: is the industry listening to how owners want to interact with their system?"
The study finds that system usability is one of the biggest contributors to problem incidence, with nearly one-third of reported problems related to ease of use of the navigation system. Furthermore, the trend toward integrating the controls of different systems in the vehicle, including audio, climate control and phone, only adds to the ease-of-use issues that owners experience with their navigation system. For instance, among those owners who consider their multimedia system's menu structure overall to be "not at all complex," the number of navigation system problems experienced is 243 PP100. However, among those who say the multimedia system interface is "very complex," the average number of problems is three times as high, at 735 PP100.
"There is a necessity in the industry to better understand how the complexity of interfaces and the implementation of navigation within the overall system impact the owner experience," said Bernhard. "Owners continue to demand a high level of technology, but it is through the integration of this technology into their day-to-day lives that both adoption and satisfaction will be influenced—and the industry continually appears to be missing the mark."
The Garmin system fitted to the Dodge Charger ranks highest in owner satisfaction with factory-installed navigation systems and performs particularly well in the navigation display screen, ease of use and speed of system factors. The Hyundai-Mobis navigation system supplied to the Hyundai Genesis Coupe follows in the rankings, and the Garmin system supplied to the Chrysler 300 series ranks third.
The 2011 U.S. Navigation Usage and Satisfaction Study is based on responses from 18,303 owners who recently purchased or leased new 2011 model-year vehicles with factory-installed navigation systems. The study was fielded in October 2011.
Supplier

Vehicle

Index
score

JDPower.com Power Circle


Ratings for Consumers
Garmin
Dodge Charger
767
5
Hyundai Mobis
Hyundai Genesis Coupe
761
5
Garmin
Chrysler 300 Series
760
5
Alpine Electronics, Inc.
Acura TSX Sedan
758
5
Harman
Audi S4 Sedan
754
5
Hyundai Mobis
Hyundai Elantra
754
5
Clarion
Ford Flex
750
5
Clarion
Ford Fusion
749
4
Clarion
Lincoln MKS
748
4
Hyundai Mobis
Hyundai Sonata
747
4
Pioneer
Acura TL
744
4
DENSO Corporation
Chevrolet Volt
743
4
DENSO Corporation
Buick LaCrosse
738
4
DENSO Corporation
Lexus RX 350
738
4
Clarion
Ford Taurus
738
4
DENSO Corporation
Lexus IS 250/IS 350/IS-F
738
4
Harman
Audi A4 Sedan
734
4
Clarion
Lincoln MKZ Hybrid
733
4
Harman
Audi A5 Coupe
729
4
Clarion
Infiniti FX-Series
728
4
Garmin
Dodge Durango – Garmin
726
4
Harman
Volkswagen Touareg
724
4
Garmin
Ram 1500 LD – Garmin
723
4
Harman
Hyundai Genesis Sedan – Harman
721
4
Garmin
Jeep Wrangler Unlimited – Garmin
719
4
Clarion
Infiniti QX56
717
4
DENSO Corporation
Lexus ES 350
716
4
Clarion
Ford Expedition
714
4
Technisat
Volkswagen GTI 4dr Hatchback
712
3
Hyundai Mobis
Hyundai Tucson
711
3
Alpine Electronics, Inc.
Honda Odyssey
711
3
Clarion
Infiniti G37 Sedan
708
3
Hyundai Mobis
Hyundai Santa Fe
707
3
DENSO Corporation
Cadillac SRX
704
3
Garmin
Chrysler 200 Sedan – Garmin
704
3
Garmin
Jeep Grand Cherokee – Garmin
702
3
Harman
Audi Q7
702
3
DENSO Corporation
Land Rover Range Rover Sport
700
3
Technisat
Volkswagen Jetta Sedan
700
3
Alpine Electronics, Inc.
Acura MDX
698
3
DENSO Corporation
Lexus RX 450h
698
3
Harman
Audi Q5
696
3
Clarion
Nissan Altima Sedan
696
3
Alpine Electronics, Inc.
Acura RDX
696
3
Study Average
695
3
DENSO Corporation
Toyota Camry
695
3
Technisat
Volkswagen Jetta SportWagen
694
3
Clarion
Infiniti M-Series
692
3
Alpine Electronics, Inc.
Honda Pilot
690
3
Technisat
Volkswagen Tiguan – Technisat
689
3
MELCO
Mercedes-Benz C-Class
687
3
MELCO
Mercedes-Benz E-Class Sedan
685
3
Clarion
Nissan Murano
685
3
Garmin
Chrysler Town & Country – Garmin
684
3
DENSO Corporation
Toyota 4Runner
680
3
DENSO Corporation
Toyota Highlander
680
3
MELCO
Mercedes-Benz E-Class Convertible
679
3
Alpine Electronics, Inc.
Honda CR-V
676
3
DENSO Corporation
Land Rover LR4
673
3
Alpine Electronics, Inc.
Honda CR-Z
669
3
Alpine Electronics, Inc.
Honda Accord
664
3
DENSO Corporation
Toyota Avalon
659
2
Bosch
Nissan Rogue
657
2
DENSO Corporation
Toyota Camry Hybrid
655
2
Clarion
Nissan Leaf
655
2
DENSO Corporation
Toyota Prius
654
2
MELCO
Mercedes-Benz GLK-Class
654
2
Harman
Ram 2500/3500 HD – Harman
652
2
TeleNav
Ford Explorer
651
2
TeleNav
Ford Edge
651
2
DENSO Corporation
Jaguar XF
649
2
DENSO Corporation
Mazda CX-9
648
2
DENSO Corporation
Toyota Sienna
639
2
DENSO Corporation
Volvo XC60
638
2
Alpine Electronics, Inc.
Mercedes-Benz M-Class
630
2
Alpine Electronics, Inc.
Mercedes-Benz GL-Class
618
2
Alpine Electronics, Inc.
Jaguar XJ
617
2
MELCO
Volvo XC90
614
2
TeleNav
Lincoln MKX
612
2
DENSO Corporation
Toyota RAV4
591
2
About J.D. Power and Associates
Headquartered in Westlake Village, Calif., J.D. Power and Associates is a global marketing information services company providing forecasting, performance improvement, social media and customer satisfaction insights and solutions. The company's quality and satisfaction measurements are based on responses from millions of consumers annually. For more information on car reviews and ratings, car insurance, health insurance, cell phone ratings, and more, please visit JDPower.com. J.D. Power and Associates is a business unit of The McGraw-Hill Companies.
About The McGraw-Hill Companies
McGraw-Hill is a leading global financial information and education company that helps professionals and students succeed in the Knowledge Economy. Leading brands include Standard & Poor's, S&P Capital IQ, S&P Indices, Platts energy information services and McGraw-Hill Education. With sales of $6.2 billion in 2010, the Corporation has approximately 21,000 employees across more than 280 offices in 40 countries. On September 12, 2011, the Corporation announced its intention to separate into two public companies – McGraw-Hill Markets (working name), primarily focused on global capital and commodities markets and McGraw-Hill Education focused on digital learning and education services worldwide. Additional information is available at http://www.mcgraw-hill.com/.
Author: