In the last year automotive advertising spend in television and radio have decreased by 17 and 15 percent respectively. On the contrary, online spend has increased by 18 percent. Search Engine Marketing, like Pay-per- click and other digital mediums have stolen the show, leaving television and radio in a brand awareness role more than anything else.
This type of Digital media, captures consumers where they are. When in-market consumers aren't in your store visiting, they are online making decisions about the car they will buy. Because of this, relevance in search engine marketing is critical to winning more customers.
Search engine marketing continues to be a key piece of a complete digital marketing strategy. SEM has allowed dealers to improve targeting, and measure how online ads are contributing to business objectives. For dealers, there are two key components to SEM that will allow you to maximize your investment in this form of marketing; raising quality score and minimizing lost impression share.
Raise Quality Score
Clearly, Google has an unrivaled, front row spot in the online search market. Consumers turn to Google for everything they do. Google has a dynamic way of showing their appreciation to their pay- per-click advertisers that maximize the relevance and quality of the search results they deliver. This is referred to as Google's quality score. A common misconception regarding Cost Per Click is that the person willing to bid the highest takes the top spot. In reality, the top spot goes to the listing with the highest Ad Rank, which is influenced by Quality Score.
Most dealers pay too much for clicks, and they have no idea. "The majority of the Quality Scores within a campaign should be 10's." said Joe High, Vice President of Digital Advertising for TeamVelocityMarketing. com. According to Google data, Team Velocity spends 80% of a customer's budget on Quality Scores which Google determines to be rated Good to Great. "You will naturally have a few results that are in the 0-9 rage, however if the majority of your scores are below a 7, this indicates that dealers are not getting the most leads for the least amount of money," he added.
In addition to analyzing your campaign's most common Quality Score, you need to analyze where the majority of your budget is spent. Good marketers are able to optimize budgets toward higher performing campaigns.
Google essentially provides a discount to businesses that have SEM campaigns correspond to their website. In other words, SEM cannot operate independently of a dealer's website. Capitalizing on this marriage between PPC ads and website pages will increase value with Google and will therefore decrease your cost per click. "PPC campaigns are only as good as the site they land on because a site that doesn't deliver quality information will cause you to pay more for lower quality clicks," said Richard Bustillo, General Manager of Rick Case Honda of Davie, FL.
For example, if you search "2013 Honda Civic" and an ad appears for Westside Honda and clicking their ad lands you on a page that refers to an oil change special, Google rates this quality score low, and here's why. Google doesn't like consumers receiving irrelevant search results because it risks losing them to Google's competitors. Going back to that same search phrase, if Eastside Honda delivers relevant content in the search ad along with a phone number to call, and links to a landing page that displays specials for a 2013 Honda Civic, Google would rate this quality score very high.
The "set it, andforget it" approach, which involves setting up a PPC campaign and taking little time to observe and maintain it, will cost advertisers more. If a PPC campaign is driven by a bad quality score, that means leads are more expensive and are reaching fewer people. If Dealers send every clicker to the front page of their website, this will generate a higher cost per click.
Successful dealerships, like Rick Case Honda, see the value in capturing all customers who are shopping outside of your dealership, instead of a percentage of them. If demand is greater than what your digital budget is offering, a small increase in spend means more opportunities for leads. What searchers click on needs to be relevant or dealers will pay more and have a lower click through rate.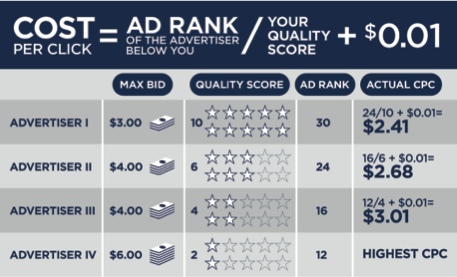 Minimize Lost Impression Share
In addition to maximizing your existing SEM budget, dealers should minimize Lost Impression Share to avoid missing out on additional phone calls and leads. One common practices to controlling SEM budget is to limit spend in this area. This practice seems sensible, but is not necessarily the best way utilize advertising dollars. If a dealer realizes that their digital marketing strategy has a positive return on investment, then maximizing spend in this area makes sense. Lost Impression Share is another valuable formula that can elevate your marketing dollars. It is a simple calculation indicating how many searches are being performed for your keyword that your ad is not being served up on because your budget is too low. For example, if your dealership's monthly PPC budget is capped at $20,000 this may bring about 400 phone calls and contain a Lost Impression Share of 25 percent. The Lost Impression Share calculation indicates that spending 25 percent more money each month will generate approximately 100 more phone calls and similarly more clicks, leads, and other traffic.
Implementing a digital strategy that involves matching relevant ads with web content can seem overwhelming and time consuming. This is why many dealers prefer having one single agent to manage digital marketing. This means less effort for the dealership and higher quality campaigns that will generate more leads. When all of the work is done right, website conversion rates are higher and cost per click is lower.
Author: