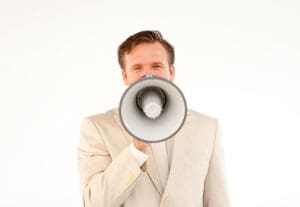 When I got started selling cars in 1993 I was terrible at it. I didn't have a clue about the importance of building a personal brand or prospecting, so I had to rely on the advertising decisions of my managers for more sales opportunities.
My managers always used to say they had the best techniques for getting our ads in front of the customer. They would have such "inventive" ideas as running an ad in the sports section so that when someone checked the score of the Tigers game…wait for it…BOOM, that lucky sports fan would see a mind blowing ad from our Chevrolet dealership.
Reality check, the only person impressed by these ads were my managers. The person looking for the sports score didn't see our ad and say "wow, how creative, there must be a really crafty sales manager behind this brilliant ad strategy." The customer saw these ads the same as TV and radio commercials: interruptions.
When the internet exploded, people flocked to it in droves because they could finally get information on their own terms, without interruptions, and with YouTube, people can actually search for videos about vehicles they're interested in buying. As a matter of fact, Google's 2013 Research from their Digital Drives Auto Shopping study taught us all that 84% of of auto shoppers will use video to determine their next vehicle purchase.
This information is great for dealerships because it means that there is an opportunity to reach future buyers for effectively no cost, if we're willing to make the videos.
Unfortunately, the amazing company that allows us to create powerful organic content marketing, YouTube (owned by Google), has also created a product that allows us to feed our old-school beliefs that interruption advertising is a smart decision.
There are plenty of statistics that claim the value of pre-roll so before I explain why it's a waste of money, I will acknowledge that there are experts you can find who will show you certain uses where it can be powerful: Of course, every one of these experts I've met sells pre-roll video.
Pre-roll is the equivalent of old-school interruption advertising. Yup, I said it. Now that I've put it out there, let me explain using real statistics from one of our local dealership clients rather than purely sharing my opinion.
For the past 12 months, we've been working a Buick Cadillac GMC dealer who used organic content marketing for their new cars on YouTube. Each month, on average, they've had about twelve-hundred video views per month, with an average watch time of sixty seconds per video. None of these are paid video ads or pre-roll so each day, forty videos are watched by customers who searched for their information and intentionally chose to spend sixty seconds or more watching their videos. None of these videos talk about price, payments, or purchasing a vehicle but they all have the dealership branding, phone number, web address, and call to action throughout the video. On a side note, 51% of these video views are coming from mobile devices.
This same dealership decided to give pre-roll video a shot, so we've been able to watch their analytics on the YouTube channel to see what type of engagement the YouTube pre-roll ads would generate. They created exciting commercials that talk about great deals, prices, payments, exclusive offers if you act now, etc. Based on the numbers, here is what we've learned; In the past 30 days the pre-roll ads have had about 3000 views, which at first glance seems amazing. As we dive deeper, we learn that this isn't the case. The ads are fifteen seconds and on average, and viewers are closing the videos about 35% of the way through.
If you know about pre-roll, you know that the customer has to wait a pre-determined amount of time before they can close the video. Typically, this is four to five seconds. The hope is that you'll grab their attention with something they will like and they'll watch the entire commercial. What we're learning from these numbers is that the viewer is closing the video as soon as possible.
Why are they doing this? Because they don't want to be interrupted by your stupid advertisement. Sure, they want to buy a car, but they want to shop and research on their terms.
With pre-roll ads, you don't pay unless the viewer watches at your video for a certain amount of time, or clicks on the video, so it's easy to see why they're so appealing on the surface. But if we just use the information we have in front of us we will realize that consumers have done everything possible to avoid interruption advertising efforts from every industry. From DVR to Satellite Radio to streaming TV like Netflix and Amazon Prime TV, consumers are saying "Get your commercials out of my face."
What do you think has more value: a video that answers consumers' questions, with your branding throughout, that a consumer is choosing to watch for over a minute, or an "exciting" 15 second commercial that they close after 5 seconds.
If you want consumers to view your dealership as one that can help them purchase or lease a vehicle, you have to make an effort to create content that the consumer is interested in. Content oriented videos may not have the whizbang feel that commercials have, but ask yourself this: are your buyers searching for commercials, or are they searching for information?
Author: