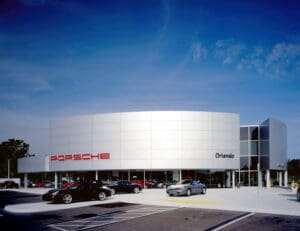 8,800-square-foot Showroom, a Part of the U.S. Automotive Image Program
FORT LAUDERDALE, Fla. – Stiles Construction, a division of Stiles, announced today that it was awarded an 8,800-square-foot, state-of-the-art showroom project for Champion Porsche in Pompano Beach, Florida.
This two-story free standing showroom at 500 W. Copans Road is the seventh consecutive project Stiles will complete for the nation's largest Porsche dealer. Coming full circle, Stiles relationship with Champion Porsche began with the construction of Champion's original showroom at this location.
According to Stiles President of Construction Tim Moore, Stiles has seen a recent increase in construction opportunities due to the surge in growth of the automotive market. Part of this growth is attributed to the new image standards being implemented by several major dealers industrywide. The standards are geared towards modernizing showrooms and service areas to maximize the customer experience, including amenities such as customer lounges with WiFi.
"The dealership will remain fully operational throughout the renovation, which will be completed in the summer of 2013," said Champion Porsche General Manager Tony Sciple.  "From the showroom interior to exterior finishes, this project rebrands the dealership with a new and dynamic look. Stiles consistently delivers our projects on time and under budget, and their attention to detail throughout the planning and construction allows us to keep focused on operations."
Over the past two decades, Stiles Construction has built dealerships for virtually every major automotive manufacturer.  In total, the company has built and renovated nearly 7.5 million square feet for the automotive industry.
About Stiles
Stiles is a full-service commercial real estate firm with a clear mission: Invest. Build. Manage. Stiles services include development, construction, tenant improvement, realty, property management, architecture, acquisitions and financing. Headquartered in Fort Lauderdale, Stiles also has regional offices in Miami, Fort Myers, Tampa and Orlando, Florida. Stiles is responsible for more than 37 million square feet of office, industrial, retail and mixed-use residential projects throughout the southeastern United States. For more information, please visit http://www.stiles.com or call 954-627-9300.
Author: