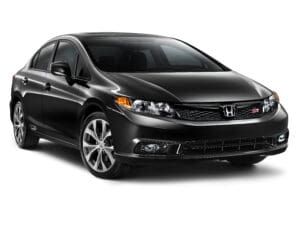 YONKERS, N.Y. — While earlier tests of the more-popular basic versions of the Honda Civic scored too low to be Recommended, the sportier Si version has earned a notably higher rating from Consumer Reports.
As a result of these latest tests, Consumer Reports now Recommends the Si version of the Civic because it scores high enough and its reliability rating is likely to be above average.
While the Si performed better than more basic versions of the Civic, the car still suffers from many of the same drawbacks as other Civics: vague steering, cheap plastics, a jittery ride, and lots of noise.  The Civic currently ranks 9 out of 11 of tested cars in Consumer Reports' sporty car category.
Consumer Reports found the Civic Si 201-hp, 2.4-liter four-cylinder engine delivers terrific acceleration at high revs. Compared with the frenetic previous Civic Si, the now larger engine has more torque and is more relaxed in everyday driving. The Si returns a very good 29 mpg overall. A slick-shifting six-speed manual is the only transmission offered on the Si.
"The Civic Si has a great powertrain, but it needs a better car wrapped around it," said David Champion, sr. director of Consumer Reports Automotive Test Center.
Consumer Reports' tests also found the Volkswagen Jetta GLI contains several important upgrades over the basic Jetta SE — which like more basic versions of the Civic, scored too low to be Recommended. The GLI's 200-hp, 2.0-liter turbo-charged four-cylinder is powerful and pulls willingly in any gear, even at low engine speeds. It delivered a very good 27 mpg overall, 2 mpg shy of the Si. The GLI is nimble and tackles corners with little body lean. Its steering is quick and more communicative than the Civic Si's. That agility helped the GLI thread quickly through CR's avoidance maneuver.
The full report on Consumer Reports' tests of the Civic Si and Jetta GLI is available on www.ConsumerReports.org  and in the February issue of the magazine—on newsstands January 3.  Updated daily, Consumer Reports.org is the go-to Website for the latest auto reviews, product news, blogs on breaking news and car buying information. Check out CR's ongoing Twitter feed at @CRCars.A4.
Although it scored higher than the Civic Si in Consumer Reports' tests, the Jetta GLI is too new for Consumer Reports to have enough reliability data to make a Recommendation. The Jetta GLI currently ranks 6 out of 11 sporty cars in Consumer Reports' comprehensive Ratings, a category that is led by the Volkswagen GTI, Subaru Impreza WRX, and Mazdaspeed3.
Consumer Reports found the Jetta GLI's cabin is more user-friendly. Some drivers didn't like the Civic Si's dual-tiered dashboard, with the tachometer mounted below the digital speedometer. And having a single knob to control radio tuning and volume is tedious. The Jetta's dashboard is much more conventional, with clear analog gauges and a touch-screen radio with a separate tuning knob. But some of its radio menus are complex.
The Civic Si's interior is airy and open. It has low sills and lots of glass. Drivers sit low to the floor and have good head and knee room. The steering wheel tilts and telescopes, but the console encroaches on right-leg room. The Jetta offers generous seat travel along with a tilt-and-telescopic wheel. But the long clutch pedal travel still made many drivers sit closer to the wheel than they'd like. Some also found that the wide center console pressed into their right leg.
Consumer Reports is the world's largest independent product-testing organization. Using its more than 50 labs, auto test center, and survey research center, the nonprofit annually rates thousands of products and services. Founded in 1936, Consumer Reports has over 8 million subscribers to its magazine, website and other publications.  Its advocacy division, Consumers Union, works for health reform, food and product safety, financial reform, and other consumer issues in Washington, D.C., the states, and in the marketplace.
FEBRUARY  2011
The material above is intended for legitimate news entities only; it may not be used for advertising or promotional purposes. Consumer Reports® is an expert, independent nonprofit organization whose mission is to work for a fair, just, and safe marketplace for all consumers and to empower consumers to protect themselves.  We accept no advertising and pay for all the products we test. We are not beholden to any commercial interest. Our income is derived from the sale of Consumer Reports®, ConsumerReports.org®and our other publications and information products, services, fees, and noncommercial contributions and grants. Our Ratings and reports are intended solely for the use of our readers. Neither the Ratings nor the reports may be used in advertising or for any other commercial purpose without our permission. Consumer Reports will take all steps open to it to prevent commercial use of its materials, its name, or the name of Consumer Reports®.
Author: