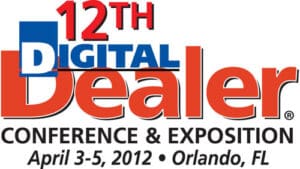 A specialized Fixed Operations Track will be featured at the 12th Digital Dealer Conference & Exposition to be held April 3-5, at the Rosen Shingle Creek Resort, in Orlando, FL.  Overall, this conference will offer 93 workshops, 90 + technology-specific exhibitors, and peer networking roundtables, as well as another specialized track for pre-owned.   www.DigitalDealerConference.com
Innovative automotive dealers and top industry consultants and trainers will share with dealers and managers their expertise and best practices on the latest digital tools for fixed operations, as well as for automotive sales and marketing, pre-owned, and F&I departments.
In today's economy, where many consumers are keeping and maintaining their vehicles so much longer, this specialized Fixed Operations Track is extremely timely.
Fixed operations managers – and dealers who want to focus on this important profit center – can learn in-depth about current issues and best practices for fixed operations during 10 sessions scheduled over the three-day period.
Sessions in the Fixed Operations Track include:
How to Create an Online Sales Channel to Sell Parts and Accessories – Learn how to set up a dealership's parts and accessories online sales cycle. Presenter: Clayton Stanfield, senior manager of dealer training at eBay Motors, overseeing all training and industry outreach programs for eBay Motors.
Enhancing the Customer Experience on your Service Drive – How to build trust and loyalty while growing customer pay sales. Presenter: Gary Kalk, president and CEO of Dealer-FX Group, Inc.
Seven Strategies that will Double your Fixed Operations Profits in 2012 —
What online strategies dealers must start employing to fight the national service brands before it's too late. Presenter: Jeff Clark, EVP, business development, DealerOn, Inc.

The Truth about Express Services & Oil Changes, Price Comparison Boards, Extended Service Hours, Closing Sales, Selling Extended Service Agreements on the Drive and Product Displays  — Why what the manufacturer recommends for your service department is usually only 50% right.  Presenter:  Jeff Cowan, a nationally recognized authority when it comes to training service advisors.

Customer Retention – Is this your Priority? — What are the most successful dealerships doing to retain customers? Presenter:  Karen K. Dillon, president, TimeHighway.com.
Parts e-Commerce – The Dealer Guide — An introduction to parts e-commerce, an explanation of choices available and tools to assess options (including ROI). Presenter: Ted Fellowes, president of Fellowes Research Group, Inc., a market research firm.

Getting Smart about Service Execution — Leveraging technology for better customer retention and realizing the customer's preferred personal channel for information. Presenter: Richard Holland, president of MPi.
Selling Service Contracts on the Service Drive – When Before Meets After —
How to consistently and 'intentionally' enable the service drive customer to see their need to cover mechanical breakdowns before they happen.  Presenter: Rick McCormick, national account development manager of Reahard & Associates Inc.

Increase Service Retention, Service ROs and Generate Additional Car Sales from the Service Lane — A targeted marketing program that not only improves fixed operations' bottom line, but also increases car sales by accelerating the customer's buying cycle.  Presenters: Anthony Monteiro, the director, consulting services for eLEAD1, and Darren VanCleave, chief operating officer – Tier 10 Marketing and Advertising Agency.

Panning for Gold on the Service Drive!  — 10 steps to finding gold nuggets in your pre-owned inventory supply.  Presenter: Tim O'Leary, a senior business consultant with Reynolds Consulting Services at The Reynolds and Reynolds Company.

To learn more about this specialized Fixed Operations Track, and other sessions and to register for the 12th Digital Dealer Conference & Exposition, April 3-5, at the Rosen Shingle Creek Resort in Orlando, FL, visit: www.DigitalDealerConference.com.
[post_adspot]
Author: