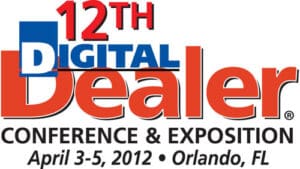 For the first time, a specialized Pre-Owned Track will be featured at the 12th Digital Dealer Conference & Exposition to be held April 3-5, at the Rosen Shingle Creek Resort, in Orlando, FL.  Overall, this conference will offer 93 workshops, 90 + Technology-Specific Exhibitors, and peer networking roundtables, as well as another specialized track for fixed operations.   www.DigitalDealerConference.com
Innovative automotive dealers and top industry consultants and trainers will share with dealers and managers their expertise and best practices on the latest digital tools for pre-owned departments, as well as for automotive sales and marketing, fixed operations, and F&I departments.
In today's market, where quality pre-owned vehicles are in such high demand, this specialized Pre-Owned Track is extremely timely.
Pre-owned managers – and dealers who want to focus on this important profit center – can learn in-depth about current issues and best practices for pre-owned during 10 sessions scheduled over the three-day period.
Sessions in the Pre-Owned Track include:
Unlocking Potential Used Inventory Treasures from your CRM – Attendees will learn and discuss practical ways they can improve their sourcing for used vehicles using both traditional and progressive techniques. Presenter: Glen Garvin, group general manager, Dominion Dealer Solutions.
The Private Individual – How do we compete with them? Presenter: Tim Deese, founder, Progressive Basics, which began in 1981 as a training company dedicated to training dealers and used car managers to improve the used car department in their dealerships.
Internet Time to Market – How to buy and sell pre-owned on the Internet. Presenter:  Dennis Carey, regional sales director for DealerTrack.

Current Market Update, Plus 90-Day Forecast for New and Used Vehicles —Timely valuation and sales information to help dealers prepare, rather than react. Presenter:  Juan Flores, director of vehicle valuation for Kelley Blue Book.

No Naked Pre-owned Vehicles – Certify your other makes and models for better turn, profit and customer service.  Presenter:  Ira Gabriel has been actively involved in the media/publishing industry most recently managing the award-winning Motor Trend Automotive Division for Source Interlink Media.

How Much will you Give Me for my Trade-in? — Effectively communicate with online trade-in customers to secure more appointments and sales.  Presenter:  Rob Lange, national sales training director for Kelley Blue Book and kbb.com.

CPO/Used Digital Integration Strategy – Market, Media, Message and Measurement — Utilizing integrated digital platforms allows dealers to increase their used car sales by effectively converting web traffic to floor traffic. We call it "The Show Ratio" the most important metric in retail sales today. Presenter: Rob Mudd, president of digital media at Mudd Advertising and Mudd 360.

Provisioning: The New Science of Used Vehicle Management and Merchandising —A new market-based approach to sourcing and selling used vehicle inventory for maximum profitability. Presenter: Dale Pollak founded two highly successful retail automotive solution companies:  Digital Motor Works, sold to ADP Corporation in 2002, and vAuto, sold to AutoTrader.com in 2010. In addition, Pollak has authored two best-selling books on used vehicle management practices and strategies.

Storybook Selling – What, How, Why — Every used car has a story… if you can tell it, you can sell it – faster and at a fair price. Presenter:  David Taylor, founder and president of Auto-Bio.

How the Gen Y Demand Has Changed the Appraisal Process —Who is Generation Y and why are they important? Engage these customers in the right way to get increased sales, profits and customer loyalty.  Presenter:  Stu Zalud, director, dealer services for NADA Used Car Guide.

To learn more about this specialized Pre-Owned Track, and other sessions and to register for the 12th Digital Dealer Conference & Exposition, April 3-5, at the Rosen Shingle Creek Resort in Orlando, FL, visit: www.DigitalDealerConference.com.
[post_adspot]
Author: