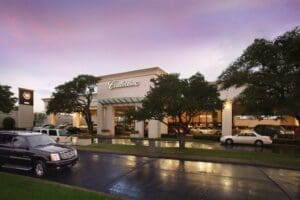 DALLAS — General Motors recently recognized Sewell Automotive Companies with a pair of prominent national awards, revealing that both Dallas-Fort Worth area Sewell Cadillac dealerships earned the Master Dealer and Dealer of the Year honors.
Sewell Cadillac of Dallas received the Master Dealer award for the 39th consecutive year, making the dealership the only 39-time winner of this prestigious award.  The more recently opened Sewell Cadillac of Grapevine earned honors for the third time.  The Master Dealer award recognizes GM dealerships that consistently demonstrate the highest level of customer service.
In addition, both dealerships earned the esteemed Dealer of the Year distinction, a title reserved for the top 20 Cadillac dealers nationwide in both sales performance and customer satisfaction.  Since GM introduced this award in 2000, Sewell Cadillac of Dallas has attained Dealer of the Year status 10 times while Cadillac Grapevine, which opened in 2004, is a first-time recipient.
"It is truly a notable accomplishment by our Cadillac associates to be honored with both the Master Dealer and Dealer of the Year awards," said Carl Sewell, Chairman and CEO of Sewell Automotive Companies, "Having both of these dealerships honored is a testament to the Sewell philosophy of providing a superior customer service experience."
About Sewell Automotive
Established in 1911, Sewell Automotive has been obsessed with service from the very beginning. With 15 franchises spanning the cities of Dallas, Fort Worth, Houston, and San Antonio, Sewell employs over 1,800 associates. They also represent a growing number of marquis automotive brands including Cadillac, Audi, Buick, Fisker, GMC, Infiniti, Lexus, Mini, and Subaru. In addition to new vehicle sales, Sewell offers a wide variety of pre-owned vehicles along with I-CAR certified collision centers and, of course, award-winning service.  More information on the company and its dealerships can be found at www.sewell.com.
General Motors Co. and its partners produce vehicles in 30 countries, and the company has leadership positions in the world's largest and fastest-growing automotive markets. GM's brands include Chevrolet and Cadillac, as well as Baojun, Buick, GMC, Holden, Isuzu, Jiefang, Opel, Vauxhall and Wuling. More information on the company and its subsidiaries, including OnStar, a global leader in vehicle safety, security and information services, can be found at http://www.gm.com.
SOURCE Sewell Automotive Companies
Author: