For those of you attending the NADA convention January 24 – 27 in New Orleans, I will be leading a fixed ops workshop again this year. The workshop will be presented twice on Friday afternoon and again on Sunday afternoon. I hope you'll be able to attend; I'd appreciate the opportunity to meet you in person.
Then on February 12 at noon (central) I'll be leading a free webinar on the same topic. If you'd like to attend, email me at cpolston@dealer-communications.com and I'll get you registered.
The article below is a quick synopsis of the workshop and the webinar. See you soon in New Orleans or online!
Dealers, general managers, fixed ops directors, and mid-level managers are bombarded with so much data that it's often hard to discern what's really important. Over the past 32 years, I've evaluated hundreds of fixed ops departments; some good, some bad, and some ugly. After all this analysis, I've boiled it down to seven Key Performance Indicators that will tell you exactly where you stand—and more importantly, where your growth opportunities are located.
This is not complicated; in fact, the older I get, the more I'm gravitating toward simplicity. If you've been in the automotive industry for any length of time, you've probably already heard of most of these performance indicators. In order to see how you stack up when compared to other dealers, please see the benchmarks graphic accompanying this article.
Customer-Pay Maintenance Penetration
The Math: Maintenance Services Sold ÷ Total Customer-Pay ROs
The Example: 275 Maintenances ÷ 1,000 CP ROs = 27.5%
The Significance: This is the quickest indicator of the health of your service sales staff. In baseball terms, it is your batting average: number of hits divided by the number of times you were at bat. Your service advisors have one primary job: to sell service! This KPI will show you how they're doing.
Overall Shop Work Mix
The Math: RO Type (warranty, internal, or customer-pay) ÷ Total ROs
The Example: 350 Customer-Pay ROs ÷ 1,000 Total RO Count = 35% CP ROs
The Significance: Warranty revenue comes from your manufacturer and is an unreliable revenue stream. Internal revenue comes from your own variable operations department and is just taking money out of one pocket and putting it in another. But customer-pay revenue is fresh money coming into your dealership and it is virtually unlimited. The more customer-pay revenue, the better.
Customer-Pay Work Mix
The Math: Type of Hours (oil change, repair, or maintenance) ÷ Total Customer-Pay Hours
The Example: 500 Maintenance Hours ÷ 1,500 Total CP Hours = 33% Maintenance Hours
The Significance: Oil changes only happen so often and they are low-profit services. Your opportunity to repair a vehicle only happens when something breaks. Therefore, if your primary source of revenue is fixing broken stuff, then your people have to sit around hoping some of your customers have a breakdown. However, preventive maintenance is a consistent revenue stream that isn't dependent on fate, but rather comes about due to your advisors' proactive selling-skills. Fate or selling-skills…which will produce the highest revenue? (I'll take skill over fate any day!)
Shop Efficiency
The Math: Flag Hours ÷ Clock Hours
The Example: 4 tech x 40 clock hours = 160 clock hours per week
100 Flag Hours ÷ 160 Clock Hours = 62.2% Efficiency
The Significance: This one is a no-brainer. If a tech is at the dealership 40 hours a week, he expects to flag at least 40 hours (100% efficiency) and he would prefer 50 hours (120% efficiency). I know there are many consultants who talk about proficiency and productivity, but I like to keep it simple. How many hours do you have in your "time bank?" How are you doing at filling your time bank will billable hours?
Effective Labor Rate
The Math: Labor Dollars ÷ Flag Hours
The Example: $1,000 Labor Dollars ÷ 20 Flag Hours = $50 ELR
The Significance: This performance indicator gives a true picture of the revenue your shop brings in for every flag hour sold. Oil changes lower the ELR and maintenance services raise the ELR. For example, if you charge $65 labor for a power steering fluid exchange and pay the tech .5, then ELR is $135 ($65 ÷ .5).The best way to raise the ELR is to sell preventive maintenance services.
Labor Gross Profit
The Math: Retail Labor – Tech Pay = Gross
Gross ÷ Retail Labor = Gross %
The Example: $75 Labor – $22 Tech Pay = $53 Gross
$53 Gross ÷ $75 Labor = 70%
The Significance: This statistic helps you line up the right job with the right tech. Using lesser-skilled techs for lesser-skilled jobs will raise the gross. Raising the retail price will raise the gross. In the power steering fluid exchange example, if you charge $65 labor and have the service performed by one of your lube techs who earns $14 per hour, then you'd pay the tech $7 (which is .5) to do the job. Therefore, the gross is $58 ($65 – $7) and the gross percentage is 89% ($58 ÷ $65). The best way to raise gross is to sell preventive maintenance.
Parts to Labor Ratio
The Math: Parts Retail Sales ÷ Labor Retail Sales
The Example: Parts $485,000 ÷ Labor $285,000 = 1.7 (Therefore, parts to labor ratio is 1.7:1.0)
The Significance: In the example above, for every $1.00 labor you are selling $1.70 parts. So what? Here's the "so what" – parts dollars typically yield 35% gross, while labor dollars typically yield 75% gross. So it's always better to sell more labor than parts. Labor drives parts, not the other way around. The benchmark is .8:1; therefore, the parts to labor ratio is a good indicator of whether you're doing too much repair and not enough maintenance. Remember, repair dollars are fickle and controlled by fate, while maintenance dollars are sustainable and controlled by selling skills.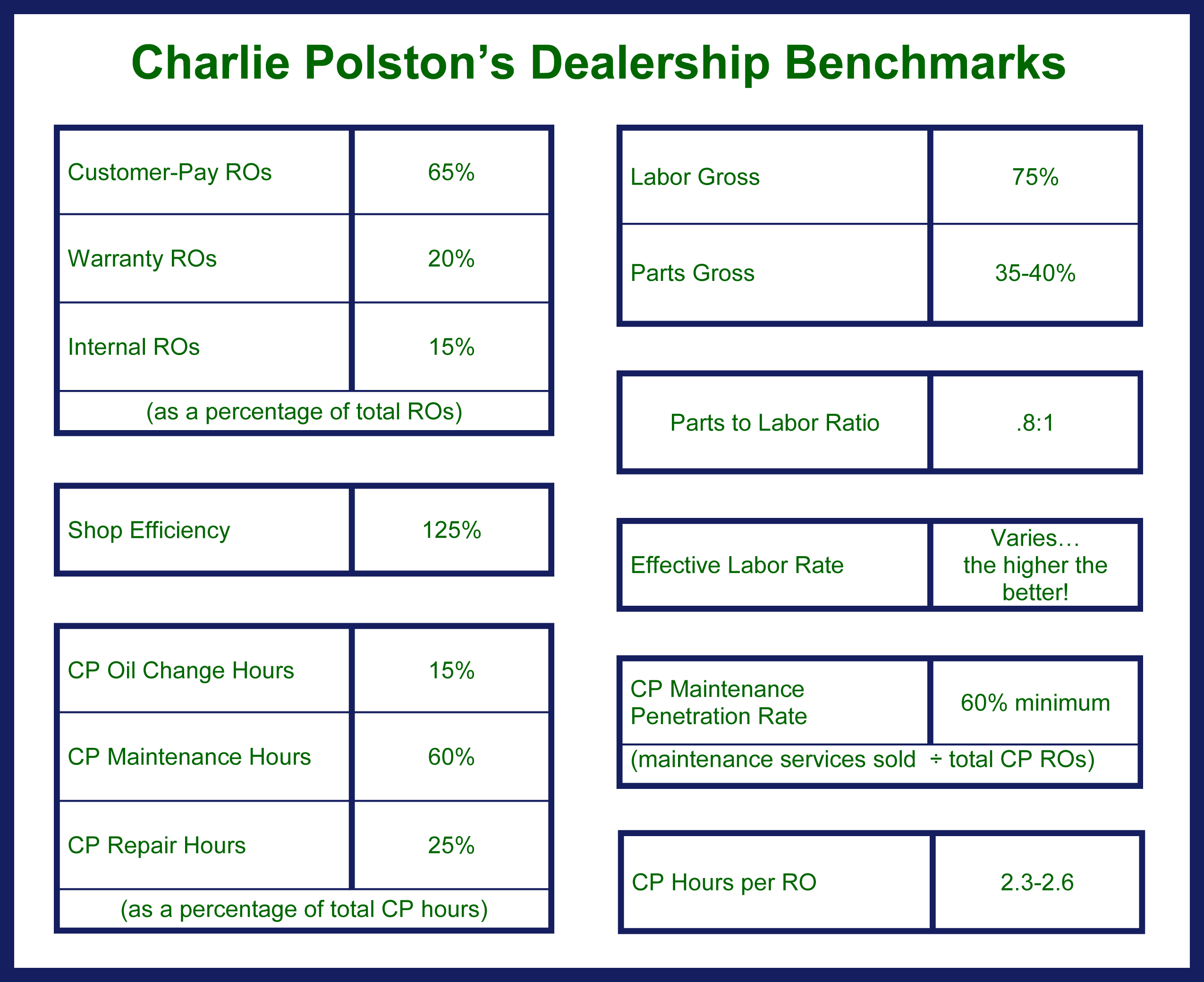 If all of this seems like a little too much to absorb, then I have an item for you that will make it easy. Just email me at cpolston@dealer-communciations.com and I'll send you a link to my online spreadsheet. You simply enter 12 numbers and the entire analysis will print out for you on a single sheet of paper. Once you know your numbers, the only issue becomes how to change the numbers. Keep reading Dealer Magazine and I'll spend the rest of the year showing you how. May you have a very blessed and prosperous New Year!
Author: