Jeff Cotton, executive vice president, director of sales at AutoAlert, Inc., will share with you a step-by-step accounting of the processes that allowed him to take one high-line, multi-line dealership (that in its five-year history had never made any money) and make it profitable in 90 days. This dealership made over $100,000 per month in 120 days, moved to a 373% increase in business over the previous year, became number one in the nation in new car growth two years in a row, became number one in the nation in certified pre-owned and became number one in client retention.
The same processes helped them become number one in CPO for Lexus during the pilot, and number one for Mercedes-Benz in growth in Southern California. You will be able to take home the processes, worksheets and word tracks and put them to use immediately at your dealership. Jeff Cotton is sharing his expertise with you.
What will you learn and what action items will you take back to the dealership?
1. Learn prospecting methods that invite showroom traffic at a very low cost.
2. Learn a simple inventory management system that reduces dealer trades, increases sales, reduces aging, and lowers flooring costs.
3. Learn up control and showroom management techniques that improve up quality, and close more sales.
4. Learn to spin your used car inventory…lower days' supply and improve turn rate with standard processes.
5. Learn how to turn your service drive into a drive through showroom.
A sales leader, Jeff Cotton, executive vice president, director of sales at AutoAlert, Inc., brings over 25 years of automotive industry experience and knowledge. Proven in the trenches of practice, Jeff learned early on in his auto selling career that knowledge and the timely application of that knowledge are key to building and keeping customer relationships. Because of this philosophy, he rose to the top of his industry by giving his customers quality information early enough so that they could make an informed buying/leasing decision—long before they knew that they had any options. The nation's top sales representative for both Mercedes-Benz and Maybach are amongst a few of Jeff's accomplishments. His techniques are used today by thousands of salespeople on a daily basis.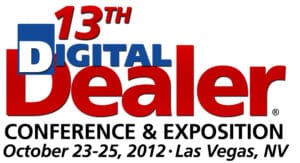 A 13th Digital Dealer® Conference & Exposition Featured Speaker: Jeff Cotton presents:  The Streamlined Selling Machine: The step-by-step processes that helped a dealership reach number one in the nation multiple times in multiple categories.
We're building out the agenda, selecting speakers and topics for more than 100 sessions that are laser-focused on all things digital.
The Digital Dealer Conference & Exposition is the premier educational conference and expo dedicated to Internet and technology solutions for automotive professionals. Digital Dealer events deliver the largest array of speakers, peer to peer opportunities, and exhibit hall offerings – all carefully designed to impart cutting edge business strategies. With an audience of the industry's most progressive dealers and managers and the most innovative conference format, Digital Dealer provides the ultimate learning and networking environment.  For more information, visit:  www.DigitalDealerConference.com
Author: