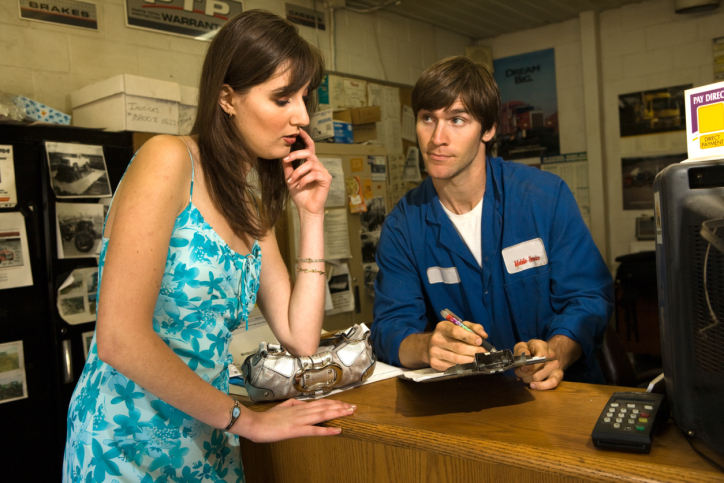 Selling is a transfer of emotion. If your advisors are knowledgeable, confident, and passionate about the services they are offering, then vehicle owners will be more likely to buy.
"People buy confidence," according to Danielle Wallace, Marketing Coordinator with BG Products, Inc. "Confidence is an attitude—a sort of cool, comfortable demeanor. Confidence is apparent in how you carry yourself. The way you walk. The way you talk. The look on your face."
Wallace continues, "Confidence is contagious and attractive. When you are more cool and confident, your customers may feel more comfortable buying from you because they trust you know what you're talking about."
Your advisors can't fake confidence—at least, not for long. Nor can they bluff their way through life trying to explain things that they don't understand. They can't be confident when they are confused! Therefore, product knowledge is the ultimate confidence builder.
Your product is highly skilled technicians using state-of-the-art tools to perform quality services on complex vehicles utilizing top-of-the-line parts, chemistry, and lubricants.
If your advisors believe it and buy into it, then their sales productivity will increase. But let's pause for a reality check; the truth is that many advisors don't believe it. Not only do they lack confidence in the techs, often there is outright hostility. Not only do they think your prices may be too high, often they think they are way out of line and more than the market will bear…an attitude that says "I'd never have my car serviced here!"
If that's how they feel, then their confidence erodes and the customer will know it. Oh, sure, they can put on their game face, but a lack of confidence results in a lack of sales success because the advisors are promoting something they don't believe in. It just won't work!
By the way, my guess is your prices are spot-on—sure, you may be higher than "Goober Lube," but there is a reason. Value and quality are important to today's consumers. Make sure they are important to your advisors, as well.
Brian Canning, a 30-year veteran of the automotive industry, puts it like this: "Our job (on the service drive) is to inform and educate our customers on the repairs and services needed to keep their cars safe and reliable. In a larger sense, our job is to sell them on us and the value, quality, and integrity we represent."
Value, quality, and integrity are key ingredients that produce confidence. Add knowledge to the mix and you have the winning combination for a confident sales team.
Canning concludes, "A confident salesperson is a successful salesperson!"
Teaching your advisors product knowledge is a never-ending process, because we are in a dynamic, ever-changing industry, but it doesn't have to be an overwhelming burden. Remember as a manager, your job is to make sure the advisors are sold on the services your techs are doing. If the service advisors buy-in, the customers will, too.
Here are a few action points to get you started:
Have one of your drivability techs conduct a 30-minute advisor training clinic so they'll understand the harmful effects of injector and intake valve deposits and how to clean them up.
Get your automatic transmission specialists to teach the advisors what happens to torque converters and valve bodies when the ATF wears out and help them understand the importance of routine fluid exchanges.
Tap the resources of your strategic vendor partners. I'm talking about the trusted suppliers that you've done business with for years—these guys know their stuff and they are always willing to help train your advisors.
Find a good online advisor training course. There are some great ones out there. Email me if you need some direction on the best one I've ever seen; it's self-paced, available 24 hours a day, comes with a quiz…and it's free!
Have your top-producing advisors invest in helping your low performers. (Note that I didn't say to have your veterans train your rookies. Unfortunately, some of your old timers have a long list of what "won't work" and a mindset that says "we've never done it that way before." The way advisors earn the right to teach others is by having a proven track record of production. By the way, nothing builds confidence faster than teaching others. Your strong advisors will get stronger when they prepare and teach the other guys.)
Don't ever use training as punishment; rather, promote training as a way to help advisors earn more money and get better at their craft.
And finally, reward individual effort by creating a pay plan that pays your service sales team to produce. Create a culture of merit where your advisors want additional training, so they can gain additional confidence, so they can sell additional services, so they can make more money!
Here's the payoff: If your advisors are confident, they will make more money… and you will, too. And that will boost your confidence!
Author: