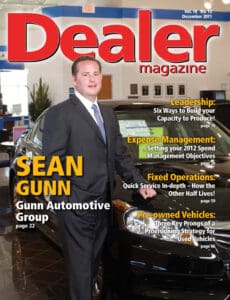 Third-generation dealer Sean Gunn got his start by working every department and tackling most every task required to run a modern auto dealership. Now chairman of the board, he's shepherding Gunn Automotive Group's successful one-price strategy that has strengthened retention, solidified the balance sheet and helped drive the group to its most profitable year ever. We talked to him recently about these and other endeavors – including the group's unique Employee Stock Option Plan – that keeps this six-store, seven-franchise and two collision centers San Antonio, TX operation an exciting place to work and buy a car.
Click here to read more about Sean's story and the rest of the December 2011 issue of Dealer magazine. 
Here is Sean's full story:
How long has a Gunn dealership operated in San Antonio, Sean?
My grandfather "Pop" Gunn started the organization in 1955 as an Oldsmobile dealer. However, the business can be traced through his wife to Smith Auto Group, which has been here in San Antonio since 1916. Before that, the Smiths were horse-drawn wagon dealers.
My dad Curtis Conway Gunn took over the business from Pop in 1972 and today is Chairman Emeritus. I moved into dad's seat four years ago. Today we operate six dealerships representing seven franchises: Acura, Buick-GMC, Chevrolet, Honda, Infiniti and Nissan. We retail about 14,500 new and used units a year.
How did you prepare for the top seat?
I had attended Texas Christian University, but left to live in Colorado for a time before returning to San Antonio. I wasn't particularly interested in the car business growing up, but by the time I'd come back home I found the idea intriguing. Dad offered me the job of assistant to the service advisor at a Land Rover dealership we owned at the time. Over the next four and half years I swept the parts department floors; put parts on shelves; was a service advisor and worked in both new and used car departments in sales, on the sales desk, and in F&I.
When did your Dad feel you were ready?
After all that hands-on training throughout the stores, he asked me to run several dealerships. The first, an Acura dealership, was losing money. Dad threw me into managing that store out of its problems. He then moved me to a troubled Dodge store, and after that to a Honda store, where I remained as GM for five years. From there, he moved me into director of Fixed Operations over all the stores, and then three years ago he threw me into the driver's seat right when the wheels fell off the auto industry.
How'd you correct the troubled stores?
The problems common to those stores largely grew out of our selling strategy change in the mid-'90s to one-price. One-price was a very new concept and it was very hard to get employees to embrace it. As a result, turnover of sales associates and sales managers, in particular, was extremely high, upwards of 75% for the first three or four years after we implemented one-price.
It's a challenge to create a new culture when managers are changing constantly. My response was to replace sales staff with sales people recruited from outside the car business. We then trained them on our products and our one-price strategy. We got the right people in place and got staff and the new culture stabilized. We also put into place rigid inventory control guidelines.
Such as?
We have a very strict inventory management philosophy. We maintain a 60-day turn on used cars and our goal on new vehicles is to maintain a 50-60 day supply.
To give you an idea of how much these controls were needed, we had used inventory 300 days old, mostly due to sales turnover and related issues. Before we latched onto the idea of hiring sales people from outside the business, we'd had streams of experienced GMs, sales managers and associates bringing in their own ideas who struggled with and resisted our new one-price process and procedures.
The challenge was to reformat the culture.
Yes. We pretty much home-grew everybody. Right now, our current general managers, with the exception of one, started as a sales associate in our company.
When hiring, did you look for customer-focus personalities?
Our one-price system is very regimented in terms of meet-and-greet and the presentation, and doing a needs analysis with a customer — before you take them to look for a vehicle — to make sure we put them on the right one up front.
With our system, when new sales people are hired, they go through a two-week training program at corporate headquarters. This training program teaches them how to follow the proper steps of the one-price sale. The training includes classroom time, as well as hands-on practice. They must demonstrate that they know how to follow the proper steps of the sale before they move into the stores.
What else differentiates your dealerships?
We have managed to keep our turnover low. We've done so by identifying the people we think have potential to move up into management positions and groom them as they move along. We give them opportunities and training; we try to make sure we provide benefits and opportunities they won't necessarily find anywhere else: Good benefits programs—health, medical, dental, matching 401K. Another benefit we offer, which isn't very common in the auto industry, is an Employee Stock Option Program or ESOP.
That's interesting.
Every employee is eligible, and there is no cost to participate. Based on their income level, employees receive ownership in the company as the ESOP is funded. Our employees currently own 12 percent of the company. Though every employee is enrolled on their first day with us, company contributions and any dividend earnings accrue only after their five-year anniversary with the company.
This program gives employees a vested interest in the company for which they work. We see it in their attitudes with each other, customers and vendors. We want them to take pride in their facilities and we want them to know that their actions affect everybody around them.
Was this idea a tactic to address your retention issue?
It was not a tactic, but the idea that our people are our number one resource was certainly on our minds. We were trying to figure out how to make sure employees took ownership of their work – to see it as a life-long career, not just a job.
So how do you measure something like "ownership?"
When we present stock certificates or hand out annual ESOP statements showing their individual earnings and percentage ownership of the company, we use those times to talk again about pride in work and pride in place of work and about the investment we – and they – have in success. 
Let's circle back to one-price. Doesn't the policy limit gross?
Last year was one of our most profitable years in the history of Gunn Automotive, even with the market being tough. We were up 30 percent above our prior best year, measured by bottom line net.
Our customer retention is very good under the one-price program. Seventy percent of our customers are repeat and referral customers. That's not necessarily the result of the one-price program, but it flows out of the one-price experience, which creates a friendly environment for the customer. Our environment is very transparent, very up front. There's no negotiation whatsoever. We show customers our prices and we'll show the invoice from the factory, if they ask. Everyone pays the same for the same make, model and trim level, whomever they are, regardless of their ability to negotiate.
Our goal with one-price is to be sure our pricing is within a tolerable difference to our competition. A good sales person and one-price should be able to overcome a price difference because the associate is selling value and professionalism, not just a product. One-price is a speedier process, and we believe customers these days are very time sensitive. If they can get a straight number from us right up front and we can make the process go smooth and fast and we can show them that it's a fair margin, we think they appreciate that versus haggling.
For the most part, yes, our grosses are lower, but our volume is up. As volume has gone up, so too have our F&I numbers, our used car trade-ins and our units in operation. The units in operation, to us, are the key to the automotive business. If you want to be able to weather a storm and be able to go through hard times, you need units in operation to gain the fixed coverage you need to cover costs.
How do you pay people in a one-price organization?
They're paid a base salary plus bonuses and a graduated scale of flats. What we want our sales associates to do is, steer the customer to the type of vehicle that emerges from their needs analysis – a 4-door family car that gets XX-miles to the gallon, at X payment level. I want him to take that customer to that exact unit. I don't want him taking him to a Corvette because there's more money in that deal.
How do you police that?
If we find that an associate or manager has negotiated in any form or fashion other than one-price and using our process, they don't get a second chance. They're dismissed.
One-price has worked for you.
You know, my dad is on record saying, "I'd rather go out of business than go back to the other way of doing it." It's not an easy transition. Once you get to the other side of it though, one-price is a fantastic way to do business. It's very transparent and it is customer friendly.
How do you market?
We have taken a very structured approach to determining how to best allocate our marketing resources. The
result has been an increase in digital marketing at the expense of more traditional media like newspaper advertising. Currently we have a solid marketing relationship with Autotrader and several other digital and traditional sources. We continue to re-evaluate on a regular basis to ensure our marketing is deployed where it is best found by our consumers.
A similar approach has served us well in eCommerce. Prior to 2009, we were on the Internet but not focused on the Internet. That year we began to apply the concept of Structure/Process/Marketing and have achieved outstanding results. By implementing sound structures and processes in eCommerce we maximize every dollar spent on marketing. For instance, we recently installed VinSolutions CRM to ensure our people have the best tools available when communicating with customers. This structural change along with many others has us on pace to realize a 34% increase in eCommerce deals for 2011.
What's your future, Sean?
The used car side concerns me for the immediate future. On the new car side, I see real opportunity due to demand. My one concern is CAFE standards and where the current Administration stands. I don't necessarily disagree, but some real challenges face manufacturers who are trying to balance and produce what they have to meet CAFÉ standards and what the public actually wants. Take electric cars, for example. Texas is a very large state. Demand here for electric cars is not strong – these cars just don't deliver the range needed here. Plus, the infrastructure to support this technology isn't here yet either.
Final question, Sean: Summarize your three key principles.
One, our one simple price philosophy; two, surround yourself with good people and empower them to make decisions; and three, make sure your good people stay with you.
Author: