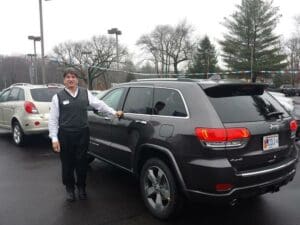 Scott Shulman Knows How to Make Customers Happy, from Boston.com.
When you turn into the Best dealerships, owners of Best Chevrolet in Hingham and now Chrysler, Dodge, Jeep Ram in Plymouth, you may think you are going in to have your car serviced. But you are actually entering the Magic Kingdom. Yes, that's Disney's Magic Kingdom, but in this case there are no mermaids or princesses to be seen. Rather, Scott Shulman, Best's owner, has made it a point to study the Disney philosophy of service.
Shulman, who has been running this 50-year-old family business for the last two decades, knew he needed something to spur a change in his business's corporate culture. "We were selling a lot of cars, but the employees and the customers were not happy," Shulman explains. Making customers happy when they arrived for sales or service, and also when they left, became his goal.
In 1994, an automotive conference in Orlando, Fla., led Shulman to the Disney Institute, which runs programs on business leadership based on their own best practices. His time there completely changed how Shulman looked at his business. The owner had been searching for a way to make Best's customers happy. Disney provided the tools he needed.
Click here to read the entire article >>
---
Photo Credit: John Goreham
Author: