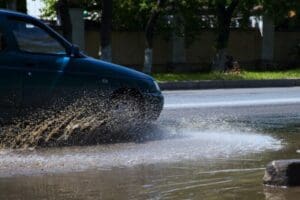 In the wake of 2012's "super storm," AiM Mobile Inspections helps consumers avoid flood-damaged vehicles
LONG BEACH, Calif. – As "Super Storm" Sandy recently showed, flooding and storm surges can wreak havoc in communities, damaging cars, homes, businesses and property. In the storm's aftermath, consumers in the market for used cars need to be wary of flood-damaged vehicles from Sandy.
Flood-damaged automobiles wind up on the used car market, in auctions and on dealer lots, all around the country as desperate vehicle owners try to salvage whatever value they can from a vehicle inundated by floodwaters, particularly if the flooding was caused by a storm surge such as the surge caused by Sandy in New Jersey.
"With sea water, it doesn't take a lot to do serious damage to a vehicle, it's much worse than freshwater," said Shane Rice regional director for Alliance Inspection Management (AiM), who was inspecting vehicles at the Port of Newark three days after Sandy struck. "The damage will be worse than what people think it will be. These cars are going to end up somewhere. Some will get traded into dealers and end up on used car lots."
AiM's Carl Sullivan, who has 16 years experience inspecting vehicles, agrees. "It's important for used car shoppers to know how to spot flood damage on a vehicle because these cars can end up on dealer lots across the nation. A car that's been in a flood, with the engine submerged for any length of time, will never be the same."
AiM Mobile Inspections and its team of 500 full-time inspectors review vehicles throughout the United States, providing detailed condition reports for clients ranging from consumers, dealers and auctions to automotive manufacturers. AiM's independent, 150-point inspection clearly identifies problems on vehicles for buyers and sellers. The company has instructed its inspectors to pay particular attention to flood damage due to this year's severe weather.
Many states issue a flood or salvage title to a vehicle that has been submerged or flood-damaged, information which can be found on a vehicle history report. Consumers concerned about flood damage should refer to the history report and also be ready to do some investigating of their own.
However, some sellers may try to unload their car or truck before a flood or salvage title appears on a vehicle's history report. To combat this possibility, Sullivan offered these warning signs to help identify flood damage in a vehicle:
• A musty odor in the vehicle, which may be from moldy carpeting or padding. If possible, pull up the carpeting to see how far water may have risen in the vehicle, and also if any moisture remains
• Mud in the seat belt tracks or seat belt tensioners
• Water or condensation in the headlights or taillights. Sullivan notes this could also be due to an accident, but water in these areas could also be a tip-off to flood-related problems
• Water in the spare tire well in a vehicle's trunk. "If we see water in the spare tire well, it leads us to look a little further," said Sullivan
• A sagging headliner in the interior, particularly on a late-model vehicle
• Look under the seats. "I found two fish under a back seat once," said Sullivan, who was inspecting cars in Florida at the time. "That was a pretty sure sign the car had been flooded."
• Power doors that don't function properly. "Flood water can cause doors to short out," said Rice. "That will cause the doors to lock and you can't access the vehicle."
• Corrosion in the vehicle's undercarriage, such as on brake lines or around the fuel tank. When corrosion appears near the top of the springs or shock towers are corroded, these are signs of flood-related damage.
"A car's engine, electronics, fuel system, airbags and brakes are all extremely susceptible to flood water," said Sullivan. "It's extremely important to find any water damage before you invest your money in a used car, and a professional inspection will find flood damage no matter how a seller tries to disguise it."
About AiM (www.aimmobileinspections.com)
Long Beach, Calif.-based AiM (Alliance Inspection Management) was founded in 2005 to inspect the condition of new and used vehicles from bumper to bumper. AiM's national team of 500 technicians are equipped with Panasonic© Toughbook© tablet computers and 3G cellular capabilities to perform comprehensive, 150-point vehicle inspections and deliver a report within 48 hours of the inspection. AiM, which has auto manufacturers, rental fleets, dealers, auction houses, finance companies and consumers among its clientele, recently performed its 35 millionth vehicle inspection.
Author: