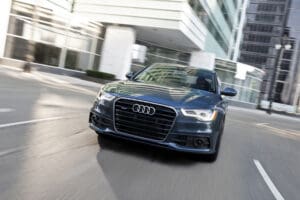 New Exclusive Audi dealership in San Francisco to Create up to 30 new Jobs
SAN FRANCISCO — The San Francisco Auto Jobs Alliance (SFAJA) is pleased to announce that San Francisco's Planning Commission has approved the design and plans for a new Audi dealership in the city's Mission District.
On Thursday, the San Francisco Planning Commission authorized the project with a unanimous vote.
The dealership, to be operated by Royal Automotive Group, will span 20,000 square-feet and will create 30 new jobs once fully operational. 85% of these jobs will be skilled mechanic, technician and repair positions, with the remaining 15% being new sales positions. The dealership will be located at 300 South Van Ness Street and is expected to open in early 2014. More than 100 construction jobs will be created by the building project.
"We thank the Commission and the community for working with us on a plan for our dealership that will fit well in the neighborhood," said Andy Hansen, Chair of the San Francisco Auto Jobs Alliance and Chief Operating Officer of Royal Automotive Group. "This new Audi dealership will help create additional automotive jobs in San Francisco and will contribute overall to tax revenue for the city's General Fund."
The Mission Merchants, Arriba Juntos, the Mission Economic Development Agency, and the North East Mission Business Alliance are just a few of the neighborhood groups that strongly support the project and an increase of automotive jobs in the Mission District.
Royal Motors started operations on South Van Ness Avenue in 1947.
The San Francisco Auto Jobs Alliance is comprised of dealers representing the Land Rover, Range Rover, Jaguar, Lotus, Lamborghini, Bentley, Volkswagen, Audi, Volvo, Mazda, Honda, Toyota, BMW, Mini, Mercedes, Smart, Hyundai, and Scion brands.
The SFAJA advocates for policies and programs that can increase car sales in San Francisco and will preserve the hundreds of jobs provided by each dealership in the city. Over the past summer, the Alliance worked with city elected leaders to craft a compromise on a business tax measure going before San Francisco voters in November. Please visit www.sfaja.com for more information on the Alliance.
Author: