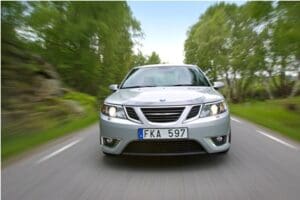 ROYAL OAK, Mich. — This week, Saab Cars North America has elected to pursue an out-of-court resolution for SCNA operations.  The SCNA Board of Directors believes this is the best course of action to maximize the enterprise value for its customers, dealers and creditors.   McTevia & Associates, a nationally renowned and respected financial advisor to companies in transition, has been chosen to direct the process.  In the interim, SCNA continues its day-to-day operations.
"The SCNA Board's decision to explore all possibilities out-of-court is the most appropriate direction to take for customers, dealers and creditors," said Tim Colbeck, President and COO, Saab Cars North America.  "By having an experienced, outside Administrator oversee the process, the interests of all parties are better served."
Most importantly, SCNA is committed to developing a solution that would provide warranty coverage for Saab vehicles covering model year 2010 and 2011 models. As has been previously reported, GM is honoring Saab warranties for model year 2009 and prior years, per agreements.
SCNA is aggressively investigating all options aimed at reinstating its parts business in North America in a timely manner.  Saab Parts Company in Sweden remains operational and not impacted by the recent announcement regarding Saab Automobile AB.
Swedish Automobile N.V. (SWAN) announced that Saab Automobile AB, Saab Automobile Tools AB and Saab Powertain AB filed for bankruptcy on Monday, December 19, 2011.
About Saab
Saab, or Svenska Aeroplan Aktiebolaget (Swedish Aircraft Company), was founded in 1937 as an aircraft manufacturer and revealed its first prototype passenger car 10 years later after the formation of the Saab Car Division. In 1990, Saab Automobile AB was created as a separate company, jointly owned by the Saab Scania Group and General Motors, and became a wholly-owned GM subsidiary in 2000. In February 2010, Spyker Cars N.V. was renamed Swedish Automobile N.V. (Swan) on June 15, 2011.
Saab cars reflect the brand's unique Scandinavian design ethic, which is fused with its aircraft engineering heritage. The company is a global premium car maker with a distinguished history of innovation. It is recognized for its pioneering role in turbocharging, as well as occupant safety and the introduction of flex-fuel technology through Saab BioPower. Saab Automobile AB currently employs approximately 3,700 staff in Sweden, where it operates world-class production and technical development facilities at its headquarters in Trollhattan, 70 km north of Gothenburg.  Saab Cars North America is located in Royal Oak, Michigan employing approximately 50 people responsible for sales, marketing and administration duties for the North American market.  
Author: