Kevin McMillen, president and founder of RyanTech and Charlie Vogelheim, partner and marketing lead at RyanTech, will share with auto dealers and managers the statistics known about auto dealership usage of technology.   They will show the average dealership, the cutting edge dealership and everything in between.  They'll talk with a panel of dealers that include Internet directors, general managers and more that can answer questions on why they made the decisions they made. Then they'll finish up with a Q&A session that lets you get your voice heard. Kevin and Charlie will try their best to answer questions from the audience that should help you make better technology decisions moving forward in this new tech era. Kevin McMillen and Charlie Vogelheim are sharing their expertise with you.
What will you learn and what action items will you take back to the dealership?
1. Learn what's available to dealers and managers.
2. Learn how to compare technologies for the consumerization of I.T. and true business devices.
3. Learn how technology will impact the selling process in the future.
Kevin McMillen is president and founder of RyanTech, VP of eLeaderTech, founder of the IAMCP Utah chapter for Microsoft, an Apple developer and Android market publisher. In 1999, he came to Utah where he worked with Garff Automotive and turned around the technology for Vehix.com, previously AutoMallUSA.com. McMillen and his team power technology for companies like AAA.com, Dealer.com, CUDL AutoSmart, as well as many others. Supporting over 17,000 dealerships, his focus is to now bring dealers to the cloud and assist in the simplification of their I.T. infrastructure, as well as provide enterprise-class communication through e-mail, document sharing, desktop management, security and backup solutions. His drive is to lower costs for auto dealers and increase productivity through technology.

Charlie Vogelheim is a partner and marketing lead at RyanTech. He is responsible for the growth of the Cloud Services division. Prior to joining RyanTech he founded Vogelheim Ventures and helped to create and grow DSES, ResponseLogix and Digital Airstrike. He also spent four years at J.D. Power as VP, and 20 years at KBB serving as the executive editor. He was instrumental in the creation of www.kbb.com. He is often a featured speaker at automotive seminars, educational meetings and media interviews and was a regular correspondent on Car and Driver Radio's weekly show. He serves on several boards as well in an effort to give back to the industry.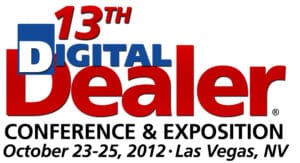 13th Digital Dealer® Conference & Exposition Featured Speaker: Kevin McMillen and Charlie Vogelheim present:  Dealer Panel on Technology in the Cloud, Microsoft, Google and Apple: With so many options available to you with respect to technology — the cloud, desktop computers, laptops, tablets and smartphones — where do you go to find out which one(s) are right for you and your dealership? Sit with this experienced group of professionals and discuss the trial and error as well as the wins that make up the secret sauce to moving technology into working for you instead of your having to work it.
We're building out the agenda, selecting speakers and topics for more than 100 sessions that are laser-focused on all things digital.
The Digital Dealer Conference & Exposition is the premier educational conference and expo dedicated to Internet and technology solutions for automotive professionals. Digital Dealer events deliver the largest array of speakers, peer to peer opportunities, and exhibit hall offerings – all carefully designed to impart cutting edge business strategies. With an audience of the industry's most progressive dealers and managers and the most innovative conference format, Digital Dealer provides the ultimate learning and networking environment.  For more information, visit:  www.DigitalDealerConference.com
Author: