DETROIT – The 2012 Buick LaCrosse with eAssist continues to lure customers looking for a spacious fullsize luxury sedan that gets the fuel economy of many compacts. In February, an all-time high one in four LaCrosse buyers chose the eAssist model.
In California, the take-rate for the 36-highway-mpg sedan reached 31 percent.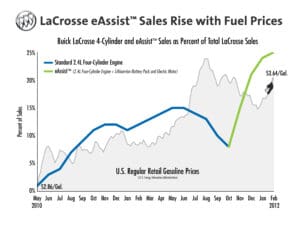 "The eAssist technology is bringing in buyers from premium brands like BMW, Lexus and Audi," said Greg Anderson, sales manager at Casa de Cadillac Buick GMC in Sherman Oaks, Calif. "These new Buick customers are interested in technology and fully loaded models. One came off the truck on Sunday that we had already sold on Thursday. The eAssist story is getting out, and buyers are interested."
LaCrosse with eAssist uses a compact lithium-ion battery pack and small electric motor to aid the performance of a fuel-efficient 2.4-liter gas engine, while advanced start/stop technology allows the vehicle to operate on just electricity while at rest. eAssist replaced a conventional 2.4L gas engine in the 2012 LaCrosse lineup, which averaged 11 percent of 2011 sales.
Fuel prices historically have helped drive sales of four-cylinder LaCrosse vehicles. When sales peaked for eAssist's predecessor, the national average cost for a gallon of regular fuel was $3.90, according to the U.S. Energy Information Administration. Gas prices are again on the rise, up more than 50 cents a gallon since the beginning of 2012. Many predict U.S. fuel costs to reach an all-time high this summer.
"Consumers want fewer visits to the gas pump, but they don't want to compromise either," said Tony DiSalle, U.S. vice president of Buick and GMC Marketing. "Through intelligent technology, the LaCrosse with eAssist delivers great fuel economy without sacrificing a spacious cabin, strong acceleration, or signature Buick quietness."
Buick's eAssist was listed among the "Best of What's New" technologies for 2011 by the editors of Popular Science.
According to hybridcars.com, LaCrosse with eAssist outsold the Lincoln MKZ hybrid three to one in February. The LaCrosse with eAssist also outsold hybrids like the Lexus RX450h, Infiniti M35h, and BMW Hybrid 7.
Retail sales of the LaCrosse – eAssist and V-6 models included – were up 24.9 percent in February, a month in which it was Buick's top-selling nameplate.
The eAssist powertrain is standard on the 2012 LaCrosse with a suggested starting price of $31,045 including destination. Buick recently announced eAssist technology will be standard on the 2013 Regal luxury sport sedan. It is currently available on that vehicle as a stand-alone option.
About Buick
Buick is a modern luxury brand offering vehicles with sculpted designs, luxurious interiors with thoughtful personal technologies, along with responsive-yet-efficient performance. Buick is attracting new customers with its portfolio of award-winning luxury models, including the Enclave crossover, LaCrosse sedan, Regal sport sedan, Buick Verano sedan and the all-new 2013 Encore crossover. Learn more about Buick cars and crossovers at www.buick.com, on Twitter @buick or at www.facebook.com/buick.
Author: