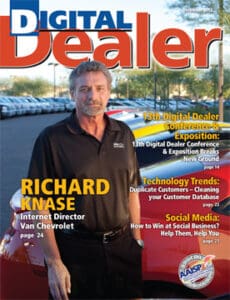 Van Chevrolet was among the top 40 dealerships nationwide for Internet sales in 2011, with 2,000 new and used vehicles sold from Internet leads.
With the dealership's current 16-17% close rate, this year's sales are on track to exceed last year's.
Internet Director Richard Knase attributes much of the dealership's success to the personal touch of management and the sales team – from the moment the lead arrives until the deal is closed. He recently shared his thoughts with Dealer magazine.
Click here to read more about Richard's story and the rest of the December 2012 issue of Digital Dealer magazine.

Rich, how did you get into the car business?
I had been in the paging industry, but the arrival of cell phone technology signaled a downturn in that market. So, I was looking for a second career. I didn't want to stay in the phone business; I decided to try the car business.
Seven years ago, I came here as a sales person and worked my way up through the ranks. I became Internet Director three years ago and also assumed that role for our sister dealership, Van Buick GMC – also in Scottsdale.
How are your Internet sales doing this year?
Sales are going very well. We expect to beat last year's sales of 2,000 units. We're increasing every few months. We're at about a 16-17% close rate for Internet leads and we are getting between 1,000 and 1,250 Internet leads per month.
Where do most of your leads come from?
Most of our leads come from our four websites, with a small percentage originating from a few lead providers. Dealer.com hosts the Van Chevrolet website (www.vanchevrolet.com), and the Van Buick GMC website (www.VanBuickGMC.com). We put the inventory and pricing on the sites, we monitor the sites, and we are involved in all the decision making, but Dealer.com does most of the work. Dealer.com does a very good job and they are always there ready to work with us.
We also have two additional sites, VanChevroletOnline.com and VanBuickGMCOnline.com, that Cobalt hosts for us through a program run by General Motors. General Motors provides these Cobalt-hosted sites for all their franchised dealerships and the sites are directly connected to GM as well as to the dealerships.
The VanChevroletOnline.com and VanBuickGMCOnline.com sites have a different look and feel from our Dealer.com websites. However, the same inventory and pricing is on the Cobalt-hosted sites as our Dealer.com-hosted websites.
The leads we get from traffic from these two Cobalt sites, as well as from our two Dealer.com sites, flow directly into our CRM system, DealerSocket, which does a great job for us.
In terms of advertising, what is your split between traditional and digital?
We've got TV and radio and we're still in newspapers a little bit, but we're moving towards more digital advertising. If you look at the cost, we are 80/20%, with the 80% being traditional, just because TV and radio are so expensive; however, we devote more time and energy towards digital. We are heading toward 60/40%, with 40 being the digital marketing.
Who handles your SEO and SEM to drive traffic to your websites?
We have a marketing company that manages SEO for us. Their team does a great job. They have people who are out there on the edge of technology and they keep us up-to-date. They also manage our SEM. They are very responsive. If they make a change for us, we can usually tell, within a week, that we are getting increased response on that website as a result of that change.
How do you handle all your Internet leads?
I manage our DealerSocket CRM system, and Tyler Jackson, the new and used car Internet Manager, and I personally distribute the leads for both Van Chevrolet and Van Buick GMC. We deliberately have chosen not to have an automated round robin system for distributing leads, like some other dealerships. We make sure the leads get to a sales person right away and I make sure someone responds immediately. If I see that one of our 13 people can't respond to the lead right away, I give it to another salesperson.
How long do you follow up on a lead?
We follow up for 90 days plus. We work the lead hard for the first 21 days, and if we don't get a deal, we work them consistently for another couple of months.
We take a very personalized – not cookie cutter – approach here. We may start each potential customer off the same way, with a phone call and an email, but every customer is going to be different, and we tailor our approach to them accordingly.
What is your typical day like?
I split time between our CRM system and working directly with the sales staff. First thing, I pass out the leads that came in overnight and then monitor them all day long. I'll call back on appointments, and check the website for accuracy in pricing. I work with the sales people to help them with their email follow up with customers. I continually watch that the leads are being taken care of. And, I do e-mail blasts every one to two weeks.
What do you see as your biggest challenge?
The time frame within which customers research and buy a vehicle is getting smaller. The average person used to do research for six months and you'd never know when they'd buy. Now they are buying quicker and they are being more wary about how much information they give you before they come in to the store, because they don't want to get a lot of phone calls.
The biggest challenge to us is maintaining that personal connection with the customers without seeing them face-to-face. A lot of customers today want to do everything online or over the phone. They may say they are interested in a vehicle on the phone and then they back off. So managing that connection is a challenge.
Some dealerships treat prospective customers more aggressively than we do. So, if a consumer has bought a car in the last five or six years and used the Internet, they've probably experienced very intensive, aggressive follow up. We try to take a friendlier approach while still being aggressive in working for the sale.
How did the dealership come through the recent recession?
We came out better than most, because we have lots of repeat customers and a family feel to the dealership. Our customers are loyal and have stuck with us, in part because we are a really caring dealership.
We stay connected to the community through charities, and we respect customers and see them as long term. We try to maintain a relationship where we're there for them and they are there for us. We've worked hard to maintain that feeling of community.
In the showroom, we foster a very open, friendly feeling and customers respond to that. People who have bought cars from us in the past, frequently come by just to say hello. When we started, 20 years ago, we had a couple of benches outside in front of the dealership and we'd get customers who would come by and just sit on the bench and have a cup of coffee with us. We try to keep that same feeling, even as we've gotten bigger.
I also think the reason people drop by just to say hello is because we have kept a lot of the same staff here over the years. We don't have a revolving door. People feel comfortable seeing the same salespeople and managers. The majority of the staff has been here for eight plus years, and some have been here for 16-plus years, managers included.
You obviously have a great reputation in your area. How are you handling your online reputation?
We work with DealerRater and with Google reviews. We are DealerRater certified and have 60 reviews.
What are you doing with social media?
We have someone who posts comments on Facebook every now and then and we occasionally get leads from Facebook. We know it's not for direct sales, so we don't try to use it for that, and we are linked to Twitter.
What awards has your dealership won over the years?
We have received the Dealer of the Year Award from General Motors for 10 years in a row.
Any plans for expansion of the dealership?
Not at the moment, but we are remodeling the Buick GMC building we are in now.
What do you see for sales in 2013?
We see 2013 as being a good year. We're going to push to get to a 19 or 20% closing rate. That will be our goal. Our Owner Chuck Mullins sets the tone for how things are done here and he's extremely supportive of all our efforts in the Internet Department.
Author: