Larry Bruce, partner, MotorTrends Online and president/CEO, MicrositesByU,  will share with you a nine-month study done with over 3,000 in-market automotive customers. The following things were addressed in the study:
Why customers get on the Internet to shop for a car
What customers look for when they get there and what motivates them to give information, visit and buy
When do they look for a dealership to buy from
Where do they first learn of the dealerhip(s) they ultimately choose
The study followed over 3,000 people online and through surveys to where a connection could be made to connect IP addresses to authenticated visitors and even track mobile to determine: 1. what really goes on in the mind of a visitor while they are shopping; 2. when a social visitor engages and how they engage; when a customer will submit information for a lead;  when a customer decides to come in and why; and why a customer decides to purchase; and more.  Larry Bruce is sharing his expertise with you.
What will you learn and what action items will you take back to the dealership?
1. Learn how to align your message to your visitors' intent.
2. Learn what social channels are really good for.
3. Learn how to get more conversions from all your web properties.
4. Learn how to get more people in the door of your showroom.
5. Learn how to keep from losing the deal when the customer does get to your showroom.
Larry Bruce is partner, MotorTrends Online, and president/CEO, MicrositesByU.   Bruce has 20-plus years of retail automotive and technology experience including: partner, MotorTrendsOnline.com; VP, Managed Marketing Solutions Reynolds & Reynolds; founder, president and CEO AIMData; founder, president and CEO ClickBuyDrive.com; president CarmallUSA.com; GM, Sanddollar Autoplex; finance director, Jay Marks Automotive Group.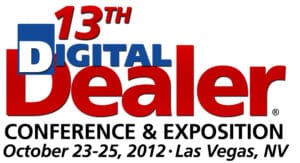 A 13th Digital Dealer® Conference & Exposition Featured Speaker: Larry Bruce presents:  There is No Sales Funnel: And the Internet is not your primary marketing channel.
We're building out the agenda, selecting speakers and topics for more than 100 sessions that are laser-focused on all things digital.
The Digital Dealer Conference & Exposition is the premier educational conference and expo dedicated to Internet and technology solutions for automotive professionals. Digital Dealer events deliver the largest array of speakers, peer to peer opportunities, and exhibit hall offerings – all carefully designed to impart cutting edge business strategies. With an audience of the industry's most progressive dealers and managers and the most innovative conference format, Digital Dealer provides the ultimate learning and networking environment.  For more information, visit:  www.DigitalDealerConference.com
Author: