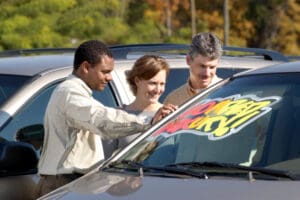 ROCHESTER, Mich. — Foresight Research released its 2012 Dealership Experience Strategy Report.  Automotive research specialists, Foresight interviewed 7,851 new vehicle buyers in the US, finding:
As a result of the great recession, the share of new vehicles being sold to older buyers has increased steadily over the past 4 years.
Older shoppers traditionally engage in fewer shopping activities and are influenced by fewer forms of marketing communications, making the dealership experience even more important.
In 2011, buyers including older ones fueling the recovery, less often purchased from the same dealership (47% versus 58% in 2010) in part due to brand switching as well as dealership cancellations.
Buyers are more often choosing a dealership based on inventory/selection, no price haggling, financing availability, quick quote response and the dealer website.
Certain dealership elements such as the service department and a well organized showroom are more influential to older buyers.
"The auto industry recovery is being fueled by older buyers," said Steve Bruyn, CEO of Foresight Research.  "In addition to their buying power, they bring different shopping and buying behaviors including more reliance on their dealership experience.  With older buyers we historically have seen higher levels of brand and dealership loyalty.  That is not the case today.  Manufacturers and dealers must refocus their marketing to seasoned buyers."
The 2012 Dealership Experience Strategy Report analyzes buyer behaviors throughout their shopping and purchase process. It documents how they select dealerships and how much of a role the dealership plays in the eventual purchase, compared to 16 other forms of marketing communications (from traditional advertising channels to auto shows, events and sponsorships, word of mouth, and print articles).  Influential marketing messages received by buyers from various communication channels are measured and rank-ordered and compared to messages typically communicated by dealerships.  The data is reported by vehicle manufacturer/brand, vehicle segment, buyer demographics, loyal/conquest customers.
Established in 1998, Foresight Research specializes in studies focusing on the key influencers of purchase decisions in the automotive, marine, advertising, public relations, experiential marketing, healthcare, government, and industry association sectors.
Author: