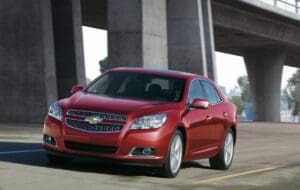 According to Ricky Beggs is the VP, Managing Editor at Black Book – National Auto Research, there has been growing hype over the new mid-size cars being introduced for 2013, with particular emphasis on stronger competition from domestic makers. These models are expected to lure an increasing number of car shoppers, placing larger-than-normal downward pricing pressure on late-model used cars in the mid-size segment:
The mid-size segments are already being impacted by the flurry of newly redesigned models planned for this fall. With particular emphasis on the entry mid-size category, wholesale price averages have dropped an average of -1.0% each week the last few months, when typical price activity should be averaging -1.5% monthly.
Four of the six major carmakers are introducing major redesigns to their flagship mid-size sedans this fall, including the Nissan Altima, Honda Accord, Chevrolet Malibu and Ford Fusion. The Hyundai Sonata and Toyota Camry came out with new introductions last year.
A laundry list of new features will highlight the introductions: New technology; sleek, new designs; high-definition sound systems; touchscreen and voice-enabled entertainment and navigation systems. These features will blur the line between mid-size sedan and luxury-level cars.
"The redesigned mid-size cars will have a prolonged impact on prices for late-model used cars in the same segment," said Ricky Beggs, senior analyst at Black Book. "Traditional used-car shoppers of mid-sized cars will instead take a closer look at the new models that come with a bevy of exciting new designs and technology features, as well as better fuel economy."
About Ricky Beggs and Black Book
Ricky Beggs is the VP, Managing Editor at Black Book – National Auto Research.
He has more than three decades worth of experience analyzing vehicle values for the industry.
Frequently provides commentary to the auto industry on used-car and specialty vehicle trends, as well as the latest valuation data.
Click here to view Ricky's weekly video series offering insight into the auto market http://ow.ly/aHFD6. Follow Ricky on Twitter @BeggsBlackBook (https://twitter.com/beggsblackbook) and on Facebook http://www.facebook.com/blackbookUSA.
Author: