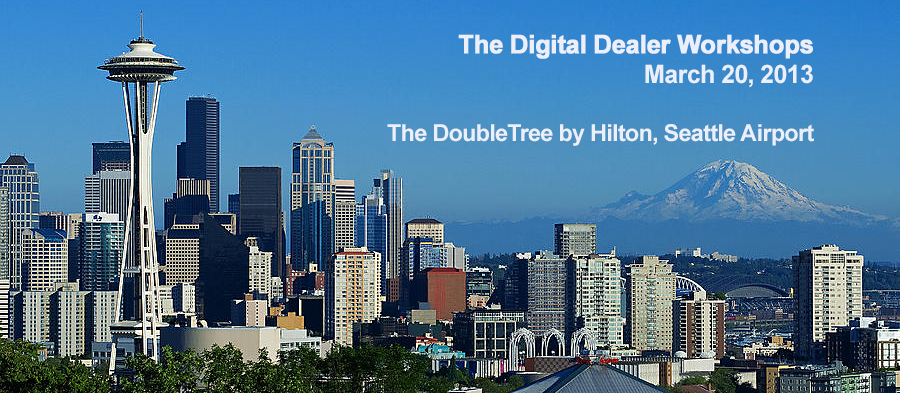 On March 20, 2013, Seattle will play host to a unique learning and networking event designed to help dealers and managers sell and service more vehicles more profitably.
At the Digital Dealer Workshops Seattle, sixteen industry thought leaders will present cutting edge strategies covering the latest in digital marketing, social media, new sales, pre-owned sales, data, analytics, reputation management and customer loyalty. Google Automotive Industry Strategist Peter Leto will headline the event with his keynote on how simple strategies can create powerful outcomes with your digital marketing efforts. Plus leading technology providers will showcase progressive solutions to solve any and every dealership issue.
Visit Seattle.DigitalDealerWorkshops.com to preview the workshop leaders and create your own agenda to engage, retain and convert more customers at your store!
Here is a sneak peak at the solution providers you will find at the Digital Dealer Workshops Seattle:
DealerOn is the premier retail automotive online marketing company providing a full spectrum of services including websites, SEO, paid search, social media and online reputation tools.
Digital Air Strike is one of the largest and fastest-growing social media, reputation management and lead-response companies with more OEM partnerships and co-op programs than any other digital marketing vendor. Digital Air Strike offers the most complete social media and reputation management solutions, revolutionary multi-vehicle quotes sent in minutes to all leads, personalized marketing messages that engage customers and innovative Facebook ad programs that get results.
ELEAD One provides dealers the best solution to increase overall performance and sell more cars. ELEAD One has successfully combined people, processes and technology to deliver one solution proven to provide the greatest return on advertising budgets and the highest closing rate in the industry.
PGI Auto is the leader in automotive digital marketing. Their team of experts can help your car dealership reach its full potential. From blogs, microsites and reputation management solutions, PGI Auto is a powerful partner in the digital age.
DealerTrack provides intuitive and high-value web-based software solutions and services to enhance efficiency and profitability for all major segments of the automotive retail industry, including dealers, lenders, OEM's, third party retailers, agents, and aftermarket providers.
AutoTrader.com is the Internet's leading auto classifieds marketplace and consumer information website, aggregating more than three million new, used and certified pre-owned vehicle listings from 40,000 dealers and attracting more than 15 million unique monthly visitors.
To preview workshops, see the agenda and to register visit: Seattle.DigitalDealerWorkshops.com
Author: