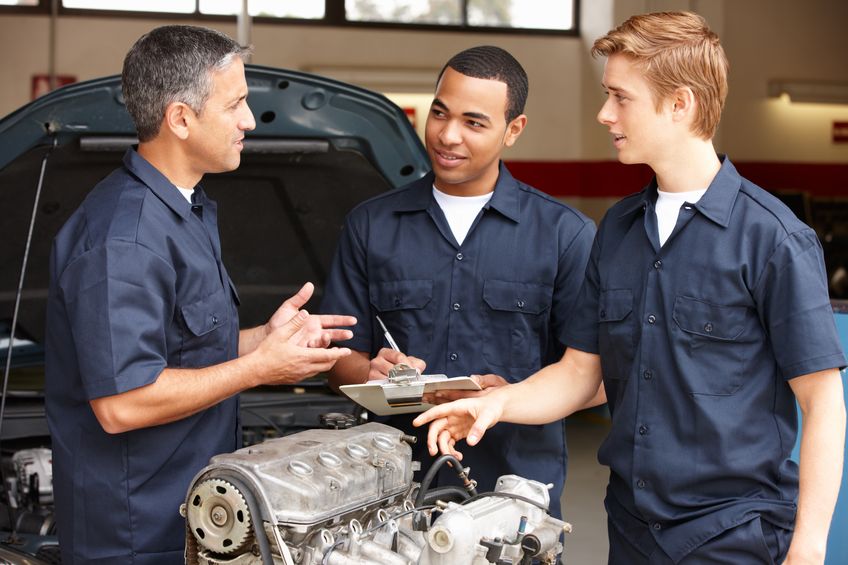 As an overall view of Service, Parts, and Body Shops, many managers struggle with attaining the desired results as because they simply don't have strong enough processes.
Having been a Fixed Operations Director, I understand how this can happen. At the beginning, we invest the time to install our processes. Then over a period of time, we find people leaving and our attention redirected at other issues. Our processes become weak because we leave the teaching of the process to the employees. And, like the game of gossip, ideas start to grow in a different direction. Or, when we put some high-powered Advisor or Estimator on staff, we expect them to bring Best Practices with them. All of this results in less than what we really want. I've heard from managers, "If I could just find the right person, then the others would learn and fall in place" or "I just hired an incredible estimator from the West Side of town.."
Here are some rules to follow:
Training has to be ongoing and never ceasing.
Your processes have to be written and detailed to the smallest minutia.
You have to communicate your processes daily.
You have to measure performance and be critical of that performance daily.
When someone is performing your processes correctly, you have to praise in front of everyone.
Training has to be ongoing and never ceasing. This is an interesting mistake that I see even some of the best managers making. When I am onsite at a dealership, I will ask the manager how the process works from the time the customer arrives. I take notes. Then I observe. In about every scenario, there are disconnects. Steps are missing. People have developed short-cuts through the process. Ongoing training helps remove those gaps. Ask your managers what their process is, and come in some day and watch. You'll see the need for training immediately.
Your Process have to be written and detailed to the smallest minutia. I spend a lot of time traveling and visiting dealerships, which means that I am on airplanes almost too frequently. In each flight, there is a process. The Pilot in command does the physical inspection of the plane and the crew goes through a whole checklist to determine if the airplane is airworthy. These checklists are now electronic and the pilots have to respond to them, to assure that they are completed in the correct sequence to assure the safety of the passengers and crew. I suggest that you create a checklist for your employees and managers so that they will have success with every customer.
You have to communicate your processes daily. I worked for a dealer many years ago who said, "You have to repeat until dizzy. And, then when you think they are tired of hearing it, you gotta repeat it again." I thought, "How silly. After all, my employees are adults." But, there is a lot of truth to the meaning. You have to continuously talk about your core values and the processes that support your core values. (Again, and Again, Lol). When you stop talking about this, then the focus for your crew begins with what you are talking about today. People are literal listeners. If you went to your fixed operations crew and said, "I want this place running great. I want candies on the dashboards when they come to pick up the vehicles, and I want them hugged and kissed at the door." I am guessing the result would be that there would be candies on the dashboards, cause I'm not kissing and hugging anyone. Make your words and actions consistent and make your words and actions count.
You have to measure performance and be critical of that performance daily. People learn at a very early age to compete. By using metrics, we not only give them the message of importance, but we're going to give them a forum where they can show excellence and compete. Post your numbers in public, and let those be the focus of daily meetings with your team. Do this, and watch your processes solidify and your results magnify.
When someone is performing your processes correctly, you have to praise in front of everyone. Yes, you need to assure that the processes are going properly for your managers. Watch what happens. When you see incredible performance, take a brief pause and thank your team member in front of other team members. Tickets to sporting events, cash, and gifts are appreciated. Remember, that inconsistent behavior modifiers are the best, so don't just do this all the time. Wait for what you would consider to be EXCEPTIONAL.
In support of my thoughts… There are a lot of fast-food chains out there that rely on processes to deliver consistency to their customers. Their employees are for the most part average. Their processes are strong. Many of these fast-food chains have "colleges" that take them through the process and groom them to teach the process to others. These businesses will not allow the employee to learn the process and begin pruning unnecessary steps so that it is streamlined. They embrace the processes as gospel. People who embrace the process are groomed for the next career step. Some make it, some don't, but the process is stronger than the people.
Negotiating Processes. Processes are never negotiated. They will never stand for statements like, "Well here's how I do it….." or "When I was at Excel Burger, we use to……." But I see a lot of managers in the field negotiating processes because they are afraid to lose employees. Just remember, if you are a strong manager and a strong trainer, there is no person stronger than a process. It all starts with an employee saying, "Couldn't we just……." Or "Our customers aren't going to like this….." or "I thought that our focus was Customer Satisfaction…." Be strong, and don't negotiate. Your negotiation can set up a critical problem in accomplishing new goals and instituting new changes.
When is a good time to take the lead? When I see new managers start a job, they fall into two different types. First, you have the ones that want to begin change today. And, with everyone's attention, now is a good time to take the helm and make the changes that you want. People are waiting to see what changes are going to happen and really expect something to change. Most may invite the new changes. After all, you are enhancing their skill set, making processes more organized, and in general, making life better for your customers and employees. The second type is the person who wants to "learn the culture" before implementing change. This sounds like a great idea, but what I see too often is that person is absorbed by the culture and then reluctant to make necessary changes. They may have already been told or sold why these changes won't work. So, they often times end up emulating the boss they were there to replace. And, if that boss wasn't there for a reason any more, then you can probably guess the outcome of their future.
Part of the Solution or Part of the Problem? My father use to say, "You're either part of the problem or part of the solution." When you seriously stand back and look at your frustration, you might find that you are part of the problem. So how do you start fresh? It's simple draw a line in the sand. Write down what you would like to happen in your department. Picture it. What is acceptable? What isn't? How has the customers' experiences changed? Do you see different faces in your department? Get the idea clear. Then execute your idea of change. Set a Date and let your team members know that you are making some big changes. Set a meeting after or before work to allow them to add to the ideas. Set timelines. Communicate what will be acceptable and what will not be acceptable. And, of course, be prepared to be tested.
Strengthen your Process. You strengthen your process by showing your employees the strength of your process. Discuss your wins with your customers as a result of someone employing the processes. Praise in public. This will help you build consistency. I hate to say it, but you have to micromanage these processes during the learning phase. If you don't, they may not become used at all. Install metrics so that people can see their progress. A great way is to use a whiteboard, or use an excel spreadsheet to show them their success rate and post the results in a public place.
Strengthen your Management. Most managers negotiate processes because they become afraid. They are afraid that they will have to terminate the employee. They are afraid that they will not be able to find a replacement. They are afraid of what management might say if they have turn-over. Empower yourself by finding replacements. As a manager, you should be recruiting all of the time whether there is an opening or not. In most cases, openings happen to you. You didn't cause them. Your reaction time can make or break a financial year. Run blind ads for people. Great sources are online and some have a charge, and some are free. Our problem is that we get frustrated when we run ads that don't get results. Remember, this is just like fishing. You have to cast your line in different areas of the pond. If they aren't biting, you change the bait. If they aren't biting, you change your location. But, you never stop fishing. You will be a stronger manager by knowing that you can find and train someone for that position. Hopefully, you will be able to sell the benefits of performing the process.
Your Part as a Dealer. I see dealers and general managers sometimes frustrated that a manager is just not "getting it done." And, the bottom line is that the manager either wants to do it and doesn't know how, or just isn't interested in placing the effort that you are asking. Help the manager outline the processes and develop a plan for improvement. Give the plan a reasonable amount of time to see if the manager is going to be proactive and begin instilling the processes.
In short, almost every business that is successful has a process and the process is stronger than any one person.
Author: