Incentives and rebates are one of the top receivables in many dealerships – make sure you are taking full advantage of them AND make sure you are keeping the money the factory provides! Troy Ontko, president and founder of AIS Rebates and Greg Kelly, director of marketing at AIS Rebates will teach you the best practices for leveraging rebates with regards to:  your website, the desking process and your sales team. Prove to prospects that your dealership staff members are experts with incentives and the desking process and learn some insights that can help to save deals. In addition, you will learn how to communicate offers with your sales team, reduce rejects and avoid costly audits! Know the rules for success! Greg Kelly and Troy Ontko are sharing their expertise with you.
What will you learn and what action items will you take back to the dealership?
1. Learn the three best practices for using rebates on your dealer website.
2. Learn how to communicate incentive and rebate programs effectively with your dealership.
3. Learn the shortcomings of factory VIN Incentive lookup systems.
4. See examples of how to effectively use rebates in three desking solutions.
5. Receive tips for the office staff – how to get paid and stay paid.
Troy Ontko is president and founder of AIS Rebates. Even though he has owned and operated his company for 15 years, he still considers himself a car guy. Ontko has extensive experience working in various sales roles in several dealerships. As a salesperson, he studied, created, and refined selling techniques. He realized how to work the incentive angle to sell vehicles, advertise and order as well. Over time, manufacturers have become more strategic in their go-to market strategies and in doing so have created significant complexities with how incentives can actually be used. Ontko has devoted his career to helping the dealership sales staff understand how to maximize their sales by leveraging factory incentive and rebate programs. He is intimately aware how dealerships work and how different departments interact. He is known as a true expert in the area of rebates and incentive programs.
Greg Kelly, director of marketing at AIS Rebates, came to AIS from General Motors in 2007 and has over 13 years of direct experience relating to incentives and rebates. During his GM career he championed the first incentive management system that is still used today. He was also responsible for deployment of the first dealership "VIN look-up" system. Kelly has the unique experience of an automotive executive involved with the entire process of incentive management including: costing, development and, communication. His experience working for both GM and AIS provides a unique prospective that helps create ways to help the dealers help themselves along the selling process. Overall, he has 30 years in the car business and is adept at combining his manufacturer knowledge with his previous experience: serving dealers as an executive of a Credit Life/Service Contract Company and also with GMAC.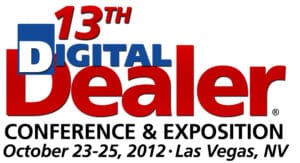 13th Digital Dealer® Conference & Exposition Featured Speakers: Troy Ontko and Greg Kelly  present:  How to Leverage Rebates: Communication is key.
We're building out the agenda, selecting speakers and topics for more than 100 sessions that are laser-focused on all things digital.
The Digital Dealer Conference & Exposition is the premier educational conference and expo dedicated to Internet and technology solutions for automotive professionals. Digital Dealer events deliver the largest array of speakers, peer to peer opportunities, and exhibit hall offerings – all carefully designed to impart cutting edge business strategies. With an audience of the industry's most progressive dealers and managers and the most innovative conference format, Digital Dealer provides the ultimate learning and networking environment.  For more information, visit:  www.DigitalDealerConference.com
Author: