While business development centers, customer retention programs, technology and software are necessary and important to a dealership and its development, Jeff Cowan, President of PRO TALK, will explain to you the key reasons why these products routinely fail and don't deliver the results advertised. Cowen will identify and give solutions for the five biggest mistakes that dealers face when investing in these products. In addition, he will give you some quick, simple and highly effective tools that will help you get the maximum results you deserve. Jeff Cowan is sharing his expertise with you.
What will you learn and what action items will you take back to the dealership?
1. Learn why all of these products are not enough when used alone.
2. Learn what the key ingredient is to make these products work.
3. Learn the importance of inter-department communication.
4. Learn how to establish company-wide buy-in and participation.
Jeff Cowan is president of Jeff Cowan's PRO TALK. Cowan's experience comes from being in the trenches. He is in his 26th year of doing business and has spent the greater part of that time standing on service drives, side-by-side with service advisors, successfully training them in the art of selling, customer service and customer retention. He is recognized as the nation's authority when it comes to training service advisors. Cowan's training is the most practical, realistic, and easy to understand sales training ever made available to the marketplace. He is one of the most sought after and highly regarded speakers throughout North America.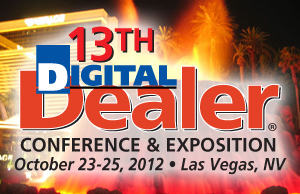 A 13th Digital Dealer® Conference & Exposition Featured Speaker: Jeff Cowan presents:  Why Business Development Centers, Customer Retention Programs, Technology and Software Don't Work: Why these products routinely fail or don't deliver the results advertised.
We're building out the agenda, selecting speakers and topics for more than 100 sessions that are laser-focused on all things digital.
The Digital Dealer Conference & Exposition is the premier educational conference and expo dedicated to Internet and technology solutions for automotive professionals. Digital Dealer events deliver the largest array of speakers, peer to peer opportunities, and exhibit hall offerings – all carefully designed to impart cutting edge business strategies. With an audience of the industry's most progressive dealers and managers and the most innovative conference format, Digital Dealer provides the ultimate learning and networking environment.  For more information, visit:  www.DigitalDealerConference.com.
Author: