Today's educated consumers seek information relevant to them and their ongoing ownership experience versus simply researching their next vehicle purchase. Scott Davis, president of DrivingLoyalty.com, will share with you technology driven solutions and processes associated with automated targeted data base marketing with vin-specific in-equity and service alerts that provide efficient marketing tools that aren't limited by facility, staff or budget. Bigger is no longer better as auto dealerships learn to leverage their greatest asset – their customer data base – to build their business. This session will level the playing field for those dealers that attend to compete in today's consumer driven marketplace. Scott Davis is sharing his expertise with you.
What will you learn and what action items will you take back to the dealership?
1. Learn how to target in-market customers to maximize efficiency in the use of your staff and advertising dollars.
2. Learn how to craft consumer centric messages and deliver relevant information that will develop sales and service opportunities.
3. Learn how to manage your customer database while monitoring your staff's efforts to maintain customer satisfaction, retention and loyalty.
Scott Davis is the president of DrivingLoyalty.com and owner of Davis Ranch Incorporated. Davis, a graduate of the University of Iowa, has over 20 years experience in customer retention ranging from Philips Petroleum, to being the number one franchise owner for national restaurant chain Pizza Ranch, to owner of Bulldog Marketing Technologies, and now president and majority partner in DrivingLoyalty.com.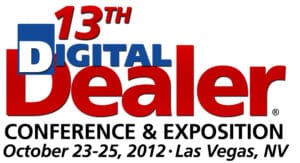 A 13th Digital Dealer® Conference & Exposition Featured Speaker: Scott Davis  presents:  Data Drives Customer Loyalty and Retention: Learn best practices to collect customer data and deliver relevant information through an "undeniable offer"designed to maintain customer relationships throughout the entire ownership cycle vs. only the shopping cycle.
We're building out the agenda, selecting speakers and topics for more than 100 sessions that are laser-focused on all things digital.
The Digital Dealer Conference & Exposition is the premier educational conference and expo dedicated to Internet and technology solutions for automotive professionals. Digital Dealer events deliver the largest array of speakers, peer to peer opportunities, and exhibit hall offerings – all carefully designed to impart cutting edge business strategies. With an audience of the industry's most progressive dealers and managers and the most innovative conference format, Digital Dealer provides the ultimate learning and networking environment.  For more information, visit:  www.DigitalDealerConference.com
Author: