Do you know how to increase sales by distinguishing yourself from the other salespeople the customer will encounter in their car shopping process? David Lewis, president of David Lewis & Associates (DLA), will expose some "old school" sales processes that so many dealerships follow today, only to produce minimal results. Then a new process entitled, "Inspirational Selling," will be shared.
This concept – Inspirational Selling – has been designed to make the sales process more enjoyable and less threatening for the customer, and easier for the salesperson to achieve a sale. This is accomplished by making the salesperson seem unique and more inspiring to the customer than your competitors' sales people. David will share with you his famous Mercedes-Benz story, which has become internationally recognized as a sales process that is loved by both the customer and salespeople, and is effective in increasing units and grosses. Whether you are a dealer, GM, sales manager, F&I manager, Internet manager or salesperson, this concept and workshop will teach you how to increase your sales and grosses. David Lewis is sharing his expertise with you.
What will you learn and what action items will you take back to the dealership?
1. Learn how to identify the areas within your organization that need to be changed or enhanced.
2. Learn how to logically examine each and every area of your sales process and then implement the needed enhancements.
3. Learn new skills for making Inspirational Presentations.
David Lewis is the president of David Lewis & Associates (DLA), which is located in Melbourne, Florida. Since 1986, Lewis has been training dealers, general managers, sales managers, F&I managers and salespeople on the "Art of Inspirational Selling." His unique ideas have helped thousands of dealerships nationwide achieve their sales and management goals.
In 2007, Lewis shared his ideas in a book entitled, "The Secrets of Inspirational Selling," which gained immediate popularity. He started his career in 1979 selling cars for a Chevrolet dealership in Lawrence, MA. As an F&I trainer in the '80s, he created the initial concept for presenting F&I products which developed into what is now known as menu selling. In the late '90s he developed the Auto Systems suite of software, which includes modules for CRM, desking, F&I and secondary finance. Over the last 10 years, he has focused on providing dealerships with sales and management training based on his Inspirational Selling concept. Lewis was rated as one of the top five speakers at the 2012 NADA Convention.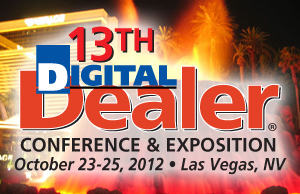 A 13th Digital Dealer® Conference & Exposition Featured Speaker: David Lewis presents:  The Secrets of Inspirational Selling: Learn how to increase sales by being different from the other salespeople the customer will encounter in their shopping process.
We're building out the agenda, selecting speakers and topics for more than 100 sessions that are laser-focused on all things digital.
The Digital Dealer Conference & Exposition is the premier educational conference and expo dedicated to Internet and technology solutions for automotive professionals. Digital Dealer events deliver the largest array of speakers, peer to peer opportunities, and exhibit hall offerings – all carefully designed to impart cutting edge business strategies. With an audience of the industry's most progressive dealers and managers and the most innovative conference format, Digital Dealer provides the ultimate learning and networking environment.  For more information, visit:  www.DigitalDealerConference.com
Author: