Peter Martin, president of Cactus Sky Communications, is sharing his expertise with automotive dealers and managers on how to increase your Internet department's closing ratio by 5% in 90 days.
You will be provided with step-by-step processes that will result in a dramatic increase in the overall Internet department's closing ratio, when timely implemented. Evidence indicates that the automotive industry's Internet department closing ratio is only 5%. It is astounding that 95% of leads that are purchased by the dealership go unsold. Even more alarming is that 41% of these leads will eventually purchase a vehicle from a competitive dealer.
What will you learn and what action items will you take back to the dealership?
1. How to review and critique your e-mail templates.
2. How to repair and correct data collection issues with your website.
3. How to gain a model for ongoing e-mail marketing to prospects/leads.
4. How to measure the success of e-mail marketing in the dealership.
5. How to determine social media's impact on your online marketing.
6. How to determine what social media channels should be invested in (if any at all!).
Peter Martin is the founder and president of Cactus Sky Communications, one of the premier e-mail marketing agencies in the country.  With over 27 years of experience in marketing and advertising, Martin is renowned for creating innovative and cutting edge programs, systems and tools to facilitate auto dealers' success in today's market.
Martin has been engaged in a wide array of diverse advertising and marketing ventures, which range from introducing e-mail matching to the auto industry, to pioneering the development of the first video e-mail technology, and to the development of multi-channel marketing, which incorporates direct mail, direct e-mail, and telephone services to increase campaign response rates.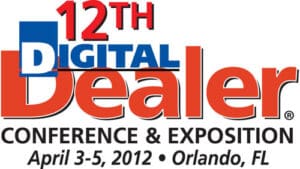 A 12th Digital Dealer® Conference & Exposition Featured Speaker: Peter Martin presents: Increase your Internet Department's Closing Ratio by 5% in 90 Days: Providing an overview of a dealership's lost sales opportunities.
We're building out the agenda, selecting speakers and topics for more than 90 sessions that are laser-focused on all things digital.
www.DigitalDealerConference.com
Author: