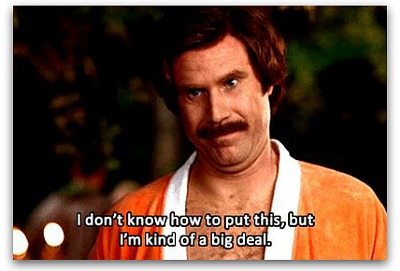 PR lessons from Ron Burgunday, according to Ragan.com.
The much anticipated film "Anchorman 2" hits theaters on Wednesday, and the MediaSource crew can't wait. As a team of trained television journalists turned PR pros, the legendary antics of Ron Burgundy captivate us all and provide endless office humor.
Something we've all wondered, however, is what it would be like to be Burgundy's PR rep. Let's face it, he's politically incorrect, unpredictable, and dumber than a lamp (even though we all love lamp). The truth is, no matter how many leather-bound PR books we have in our arsenal, we can all learn a thing or two about PR from Ron Burgundy.
1. If it's "kind of a big deal," say so!
Have a strategy to tell everyone. We all have those stories that require a lot of development and focused pitching hours to get placements, but when you identify a story with truly great potential, you should maximize your opportunity. Don't be happy with the usual placements. Push harder. Be aggressive, and make sure everyone knows that your story and your brand are kind of a big deal. It's amazing how far a story can go when you believe in its success and broad appeal.
Click here to read the entire post >>
Author: