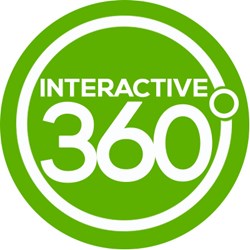 Interactive 360 has realigned a significant portion of both their human and technological resources to their new Drive360®CRM system. This is in response to an overwhelmingly positive response to the Drive360®CRM debut at the 15th Annual Digital Dealer Conference & Exposition held just over two weeks ago in Las Vegas, Nevada. The newly launched system is one of the most innovative and comprehensive CRM systems currently available to manage automotive dealerships and their daily functions.
During the Digital Dealer Conference & Exposition, Interactive 360 had the opportunity to provide a demonstration of the new CRM system to many attendees, which included dealer bodies, OEM representatives and dealership management system vendors. Rick McLey, Interactive 360 CEO, recently noted in regards to the CRM focus, "The response from the automotive industry has been overwhelming. Drive360®CRM niches itself into the automotive CRM market as a powerful system designed for the salesperson yet is still intuitive and user friendly. These qualities make it a formidable player in the market."
While Interactive 360 will continue to promote its most popular product and service package, referred to as The Drive Package, it will temporarily be suspending other packages previously available. The comprehensive Drive Package consists of Search Engine Optimization, Search Engine Marketing, Retargeting Display Ads, Social Media Management, Reputation Management and Blog Writing. Interactive 360 will not offer any website production and hosting services to future clients, but will maintain all currently contracted client packages. At this time, there is no tentative date that website production and hosting will resume. Interactive 360 has also redirected its resources to increase their ongoing support for CRM clientele noting, "The need for superior one-on-one live support is imperative in a marketplace with a notoriously low standard of quality support practices."
Interactive 360, Inc. is a digital marketing agency based in Amarillo, Texas that offers a wide range of products and services for clients in the automotive industry, including: complete website construction, inventory management, Drive360®CRM, monthly onsite training, social media marketing, SEO, content marketing and PPC marketing campaigns. Rick McLey, CEO of Interactive 360, Inc. believes that in order for Interactive 360, Inc. to best serve clients in the digital arena, one cannot fear change but embrace it and constantly be eager to improve. For any questions you may have, please contact Interactive 360 at 806-576-3700 or visit their website at http://www.Interactive360.com.
Author: