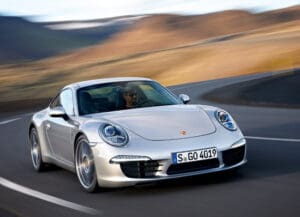 Porsche Cars North America, Inc. (PCNA), importer and distributor of Porsche sports cars, Cayenne SUVs and the Panamera four-door sports sedan line-up in the United States, today announced May 2012 sales of 2,852 vehicles. This compares to 2,817 vehicles last May, for an increase of one percent. For the year, Porsche has sold 13,448 cars in the U.S., which is a three percent increase over last year's sales of 12,996.
"May was another solid month, especially for the new, seventh-generation 911," said PCNA's President and CEO, Detlev von Platen. "In addition, our Panamera model line scored a 22% increase over last year. We're now looking forward to the arrival of our highly anticipated third-generation Boxster, which should help boost our sales growth once it comes to Porsche dealerships in the beginning of July."
With 878 sales of the new 911, the recently-launched iconic sports car showed a 43 percent increase over May 2011.
Porsche's Approved Certified Pre-Owned vehicle sales set a record for the month of May 2012, with 871 vehicles sold compared to 750 last year – a 16 percent increase. Year-to-date, Porsche's CPO sales are up 12 percent (4,025 vs. 3,597).
Model

April 2012

Current Year

Prior Year

ALL BOXSTER/CAYMAN

49

331

ALL 911

878

612

ALL CAYENNE

1174

1258

ALL PANAMERA

751

616

GRAND TOTALS

2852

2817
Author: