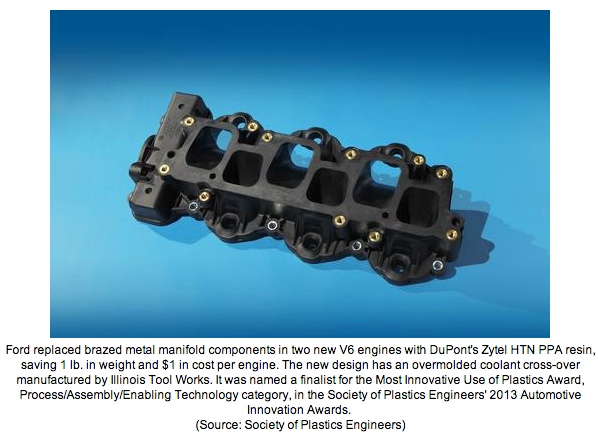 Plastic replaces metal in car engine, according to DesignNews.
Ford has replaced brazed metal manifold components in two new V6 engines with DuPont's Zytel HTN PPA resin, saving 1 lb. in weight and $1 in cost per engine. Because of the advances achieved with this redesign — a collaboration among DuPont, Ford, and Illinois Tool Works — the Society of Plastics Engineers named the team finalists for the Most Innovative Use of Plastics Award, Process/Assembly/Enabling Technology category, of the SPE's 2013 Automotive Innovation Awards.
New Ford Duratec 3.5-liter and 3.7-liter V6 engines will be equipped with an injection-molded cross-over coolant component made of Zytel HTN, replacing the previous overmolded brazed metal tubing, a DuPont spokesperson told Design News. The component allows engine coolant to bypass the manifold as it circulates through the engine.
Click here to read the entire article >>
Author: