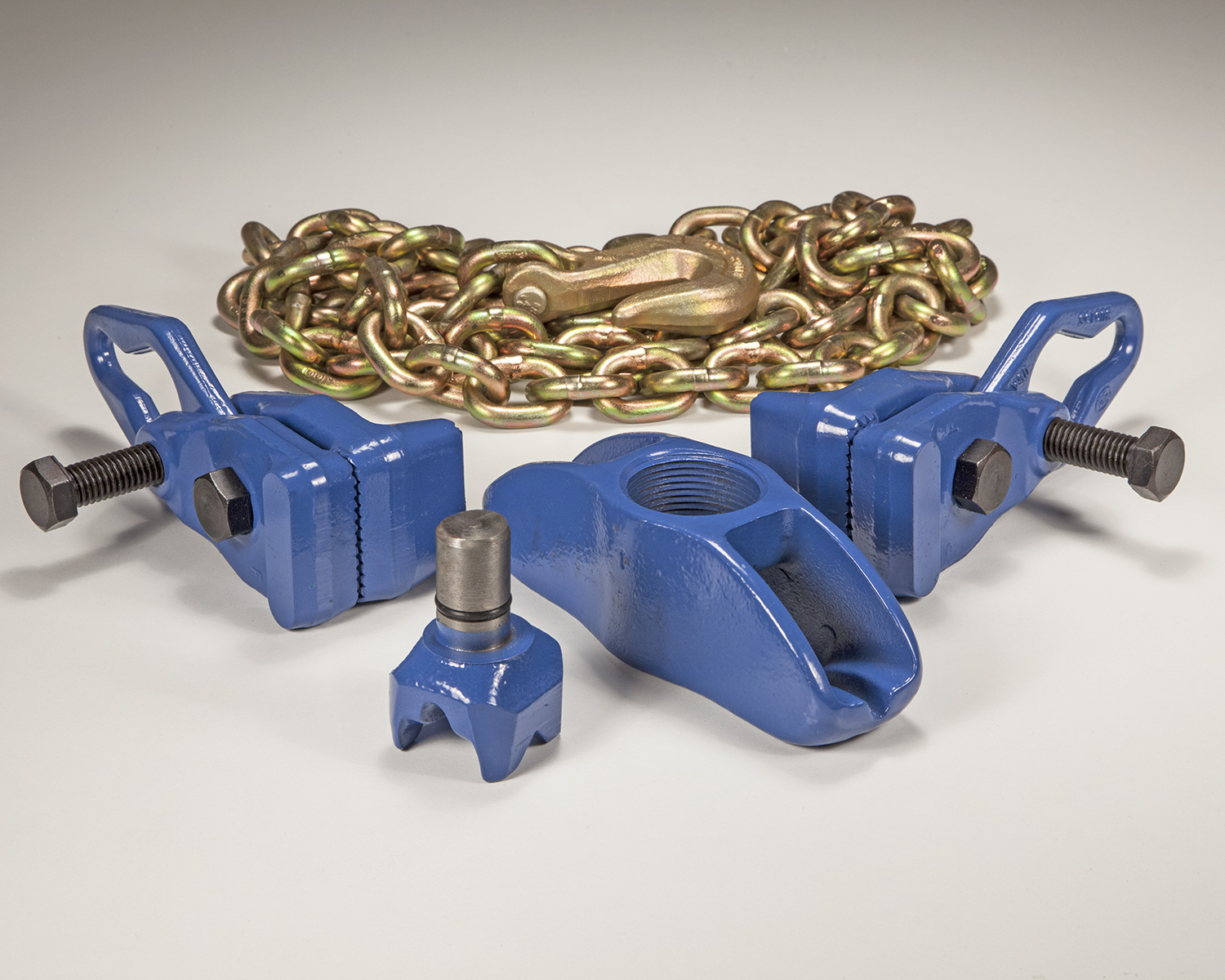 Portable Pull Kits from Porter-Ferguson make it easy for auto body repair operations to turn a 4-ton or 10-ton jack assembly into a multi-directional pulling assembly.
There are two kits: the 4-ton PF0153 Speed Midget® Pull Kit and the 10-ton Hydro-Chief™ Pull Kit. The 4-ton kit includes a cap, 1/4″ x 6′ chain, a chain pull collar, and two Bite-Tite™ clamps. The 10-ton kit includes a collar, small chain attachment, 3/8″ x 6′ chain, and two Bite-Tite Clamps. Available options for each kit are either a P-F hand or air hydraulic jack. Either kit provides two inches of metal pull for every inch of ram travel and jacks can be located at any position on the chain.
In most operations, pulling is done with a frame machine's hydraulics and pulling tower. However, there are some situations where the tower cannot be used. Wth rear impact damage, the back fenders buckle out as the rear caves in. So to repair, it would be necessary to pull the sides of the trunk back together while pulling the back of the vehicle out–impossible to do with a frame machine alone. But by adding a P-F pull kit and a jack, the frame machine tower could pull the bumper backward while the pull kit pulled the fender sideways.
The pull kits also give additional, inexpensive capability to repair operations that do not have a frame machine.
The kit components are 100% made in USA, are OSHA-approved, and carry a lifetime warranty against defects in material and workmanship, subject to normal usage, wear and tear.
Porter-Ferguson is a division of Lowell Corporation. For more information about PF auto body repair tools, or for a full-line catalog on either P-F or Lowell tools, call 800/456-9355 or 508/835-2900, email customerservice@lowellcorp.com, or visit the company's website, www.lowellcorp.com.
Author: