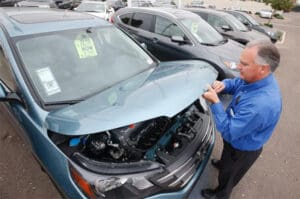 Orders for US durable goods fell 3.4 percent in December, led by huge drop in aircraft, from U.S. News.
Orders for long-lasting manufactured goods dropped sharply in December, dragged lower by a big decline in demand for commercial aircraft.
Orders for durable goods fell 3.4 percent in December following a 2.1 percent decline in November, the Commerce Department reported Tuesday. The decline was led by a 55.5 percent plunge in the volatile category of commercial aircraft.
There was also weakness in a number of areas, with demand for machinery, computer and primary metals all down. A key category that serves as a proxy for business investment plans edged down 0.6 percent in December after a similar decline in November and a 1.8 percent fall in October.
The overall decline was unexpected. Economists had been forecasting a small increase for December and some said the worse-than-expected report could mean that overall economic growth in the October-December quarter will be weaker than expected.
Click here to read the entire article >>
---
Photo Credit:
AP Photo/Ross D. Franklin, File
Author: