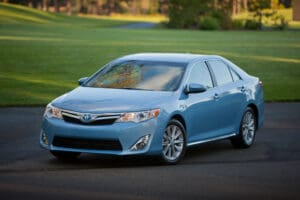 Westbury Toyota, one of the finest NY Toyota dealers, is bringing its National Auto Values this Black Friday. For the many customers looking for spectacular deals, they may be sure to find them on November 25.
WESTBURY, N.Y. — NY Toyota dealers may see soon enough how Westbury Toyota works hard to find solutions for its shoppers. With Westbury Toyota offering the National Auto Values Black Friday Three-Day Event, shoppers should know what makes these lease promotions even better than ever. The Three-Day Event begins at 6 a.m. on November 25 and continues until Sunday night at 5 p.m.
Not only are shoppers able to come find tremendous financing options on all new, pre-owned and certified models, but Westbury Toyota is delivering an option that other NY Toyota dealers may not be: 24-month leasing options on its large and premium pre-owned Toyota models.
"We know it's important for our shoppers already have as many options as we can offer to them, but we wanted to take it a step further," said Mark Feurer, General Manager at Westbury Toyota. "With this unique plan to lease pre-owned models, we know we will be able to reach more customers while delivering them options they may not find anywhere else. The need to settle on long-terms for leasing or high payments is no longer something our customers need to worry about."
Westbury Toyota is bringing its 24-month lease, up to 12k miles, to those shoppers looking for terms and payments that they are comfortable and happy to go home with. Aside from the leasing options available at Westbury Toyota, there will be other specials available for shoppers to take advantage of such as:
Up to 75 percent off MSRP
0 percent financing on popular Toyota models
Low payments starting as low as $88 per month
This National Auto Values Black Friday sale is coming quickly, and Westbury Toyota is ready to serve and get shoppers the models they want.
For more information about Westbury Toyota, visit www.westburytoyota.com or call 877-333-1834.
Westbury Toyota serves the entire Long Island area including the cities of Westbury, Huntington, Hempstead, and Garden City, N.Y. Westbury Toyota is conveniently located on 1121 Old Country Road in Westbury, NY 11590.
Author: