November mid-month update from NADA.
After diving by 3.5% on a prior month basis in October, used vehicle depreciation eased up substantially over the first half of November with prices falling by 1.2%, a figure in line with NADA's full-month target of 1.5% to 1.75% and one dramatically better than October's mid-month fall of 3.1%.
At the segment level, mid-size van prices have firmed up the most with depreciation improving to 1.6%, up by more than three percentage points from October's full-month loss of 4.7%. The stabilization in mid-van prices has come despite 2013 model year volume increasing by 32% or 522 units over the first two weeks of the month (relative to the second half of October).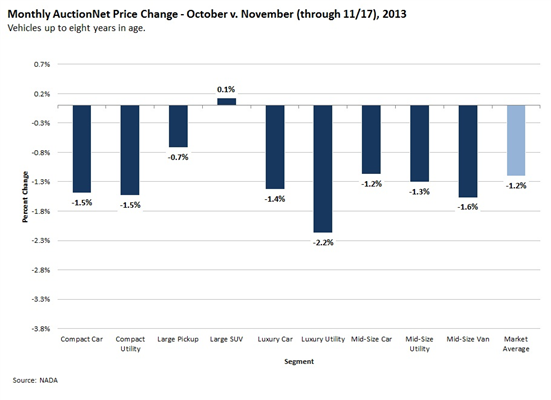 Click here to read the entire article >>
Author: