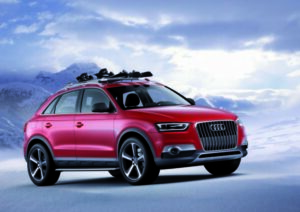 DETROIT, Mich. – The North American International Auto Show (NAIAS) 2012 completed two full days of exciting new-vehicle introductions and upbeat press conferences signaling an enthusiasm not seen in the auto industry for a few years. The NAIAS now transitions to two days dedicated to Industry Preview.
"The buzz is back," proclaimed Bill Perkins, chairman, NAIAS 2012. "Press Preview exceeded our expectations with more than 93 percent of the new vehicles introduced being worldwide unveilings. I think the journalists need a few days to process everything they witnessed during the 35 NAIAS press conferences."
Perkins said the new products unveiled included electric vehicles, luxury vehicles, minivans, and even a 200 mph supercar. "Cobo Center and the City of Detroit are really shining tonight!"
Press Preview was a resounding success with more than 5,200 credentialed media covering the new-vehicle introductions. Over 30% of those scribes visiting the NAIAS are from outside North America, including new media visitors from Qatar, Panama and Bulgaria. Additional media are expected to attend during Industry Preview, Charity Preview and Public Show.
Tomorrow at 12 noon the show floor will open for NAIAS Industry Preview. Industry analysts, supplier executives, designers, engineers and auto enthusiasts will compare, analyze, photograph, and benchmark the more than 500 cars and trucks on the NAIAS floor. Industry Preview early registration is running at 20 percent ahead year-to-date with more than 2,000 companies participating from 23 countries. Show organizers expect more than 21,000 visitors over the two days of Industry Preview.
NAIAS 2012 New Vehicle Introductions:
Acura ILX Sedan
Acura NSX
Acura RDX
Audi Q3 Vail Crossover
Bentley Continental V8
BMW ActiveHybrid 5
Buick Encore
Cadillac ATS
Chevrolet Code 130R Concept
Chevrolet Miray Concept
Chevrolet Sonic RS
Chevrolet Tru 140S Concept
Chrysler 700c Mini Van Concept
Dodge Dart
Falcon F7 Supercar
Ford Fusion
Honda Accord Concept
Hyundai Genesis Coupe
Hyundai Veloster Turbo
Lexus LF-LC Concept
Lincoln MKZ Concept
Maserati Kubang SUV Concept
Mercedes-Benz 300 SL
Mercedes-Benz E300 Hybrid
Mercedes E400
MINI Roadster
Nissan Pathfinder Concept
Porsche 911 Carrera Cabriolet
Porsche Cayman R
Scion Racing/GReddy FR-S
Shelby GT500 Super Snake
Shelby GT350 Limited Edition
Shelby GTS V6
Smart-For-Us Concept
Tata eMO EV
Toyota NS4 Concept
Toyota Prius C
Volkswagen E-Bugster Concept
Volkswagen Jetta Hybrid
Volvo XC60 Plug-in Hybrid Concept
Volvo C70 Convertible
NAIAS Sponsors
The NAIAS would like to thank its premier sponsors: Delta Air Lines, DENSO, Johnson Controls, KPMG, Michigan Economic Development Corporation, Michelin, ZF Group, as well as its official sponsors: AutoTrader.com, ion Television, MSN Autos, Panasonic Automotive, and Schaeffler. Charter One, part of the RBS group, is the Presenting Sponsor of Charity Preview. 
About the North American International Auto Show
Entering its 24th year as an international event, the NAIAS is among the most prestigious auto shows in the world, providing unparalleled access to the automotive products, people and ideas that matter most – up close and in one place. One of the largest media events in North America, the NAIAS is the only auto show in the United States to earn an annual distinguished sanction of the Organisation Internationale des Constructeurs d'Automobiles, the Paris-based alliance of automotive trade associations and manufacturers from around the world.
Author: