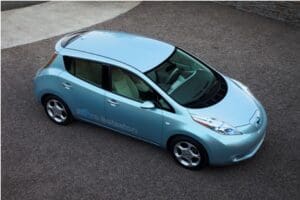 FRANKLIN, Tenn. – Nissan LEAF owners throughout the United States are gearing up for the second annual National Plug In Day on Sept. 23. This nationwide celebration of electric vehicles involves a variety of events planned in more than 60 cities across the country, with activities including electric car parades, ride-and-drives, music, games and more.
"This year, thousands of Nissan LEAF owners around the country will show their enthusiasm for zero-emission car culture with activities at National Plug In Day," said Brian Carolin, senior vice president, sales and marketing, Nissan North America. "This kind of passion does more than drive awareness—it allows pioneers of the electric vehicle movement to share their experiences, and it demonstrates that electric vehicle ownership is about more than transportation. It's a lifestyle."
National Plug In Day, organized by Plug In America, the Sierra Club and the Electric Auto Association, champions the benefits of plug-in vehicles, such as the 100-percent electric Nissan LEAF that recently was named the No. 1 commuter vehicle by TopCarScore.com.
For more information about how to participate in National Plug In Day, please visit http://www.pluginamerica.org/calendar/2012-national-plug-day.
About Nissan North America
In North America, Nissan's operations include automotive styling, engineering, consumer and corporate financing, sales and marketing, distribution and manufacturing. Nissan is dedicated to improving the environment under the Nissan Green Program and has been recognized as an ENERGY STAR® Partner of the Year in 2010, 2011, and 2012 by the U.S. Environmental Protection Agency. More information on Nissan in North America and the complete line of Nissan and Infiniti vehicles can be found online at www.NissanUSA.com and www.InfinitiUSA.com.
About Nissan
Nissan Motor Co., Ltd., Japan's second largest Japanese automotive company by volume, is headquartered in Yokohama, Japan and is an integral pillar of the Renault-Nissan Alliance. Operating with more than 248,000 employees globally, Nissan provided customers with more than 4.6 million vehicles in 2011. With a strong commitment to developing exciting and innovative products for all, Nissan delivers a comprehensive range of fuel-efficient and low-emissions vehicles under the Nissan and Infiniti brands. A pioneer in zero emission mobility, Nissan made history with the introduction of the Nissan LEAF, the first affordable, mass-market, pure-electric vehicle and winner of numerous international accolades including the prestigious 2011 European Car of the Year award. 
For more information on our products, services and commitment to sustainable mobility, visit our website at http://www.nissan-global.com/EN/.
Author: