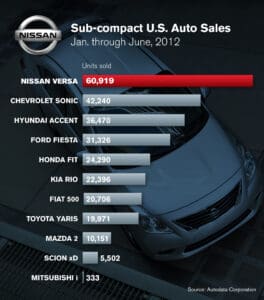 FRANKLIN, Tenn. – As a part of Nissan North America's offensive of five new models in 15 months, the sub-compact Versa hatchback will receive a fresh new look that takes design cues from the new Nissan Note, announced earlier today in Japan and other overseas markets.
The Nissan Note, which will go on sale in Japan in September and Europe in 2013, hints at the design direction for the next Versa hatchback to be sold in the Americas. Both are based on the company's global V-platform, but the Versa will embrace features tailored to its markets in North and South America. More details about the future Versa hatchback will be available closer to its launch.
The Versa family includes sedan and hatchback versions in the U.S. and leads the sub-compact market with 60,919 sales thus far in 2012, outselling its nearest competitors, Honda Fit, Hyundai Accent and Ford Fiesta for a more than 22 percent share of the segment.
"Nissan's sales dominance in the sub-compact segment was driven by Versa's triple-digit gain in June," said Al Castignetti, vice president and general manager, Nissan Division. "The Versa offers exceptional value, excellent fuel economy and numerous features rarely available in other models in this segment."
Nissan also announced the 2013 Versa sedan, on sale in fall of 2012 in the U.S., has been upgraded to achieve 40 miles per gallon on the highway. The second-generation Nissan Versa sedan, introduced last year, redefines compact car value. It combines a sophisticated exterior design, well-appointed interior and exceptional room for five adults – including more rear legroom than many mid-size sedans.
About Nissan North America
In North America, Nissan's operations include automotive styling, engineering, consumer and corporate financing, sales and marketing, distribution and manufacturing. Nissan is dedicated to improving the environment under the Nissan Green Program and has been recognized as an ENERGY STAR® Partner of the Year in 2010, 2011, and 2012 by the U.S Environmental Protection Agency. More information on Nissan in North America and the complete line of Nissan and Infiniti vehicles can be found online at www.NissanUSA.com and www.InfinitiUSA.com.
Author: