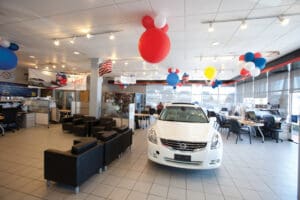 FRANKLIN, Tenn. — Nissan North America recently announced thatBryan Dumais has been named regional vice president, Midwest region, Nissan Sales Division, effective immediately. He will report to Al Castignetti, vice president, Nissan Sales Division, Nissan North America, and be responsible for Nissan vehicle sales, customer satisfaction and market presence in a region that covers 11 Midwest states.
Dumais currently is senior manager of Nissan's regional marketing activities. Since he joined Nissan in 2003 he has held positions of increasing responsibility in sales, marketing, and parts and service. Previously, he spent a decade at Toyota in various sales roles. Dumais has a bachelor's degree from Boston College.
"Bryan brings a record of performance to his new role," said Castignetti. "I'm confident his strong industry knowledge, terrific dealer relationships and reputation for sales leadership will help him drive market share growth and enhanced customer satisfaction results throughout our Midwest region."
About Nissan Americas
In the Americas, Nissan's operations include automotive styling, engineering, consumer and corporate financing, sales and marketing, distribution and manufacturing.  Nissan is dedicated to improving the environment under the Nissan Green Program 2010 and has been recognized as a 2010 ENERGY STAR® Partner of the Year by the U.S Environmental Protection Agency. More information on Nissan in North America, the Nissan LEAF and zero emissions can be found atwww.nissanusa.com.
About Nissan
Nissan Motor Co., Ltd., Japan's second largest automotive company by volume, is headquartered in Yokohama, Japan and is an integral pillar of the Renault-Nissan Alliance. Operating with more than 150,000 employees globally, Nissan provided customers with more than 4 million vehicles in 2010. With a strong commitment to developing exciting and innovative products for all, Nissan delivers a comprehensive range of fuel-efficient and low-emissions vehicles under the Nissan and Infiniti brands. A pioneer in zero emission mobility, Nissan made history with the introduction of the Nissan LEAF, the first affordable, mass-market, pure-electric vehicle and winner of numerous international accolades including the prestigious 2011 European Car of the Year award and 2011 World Car of the Year.
Author: