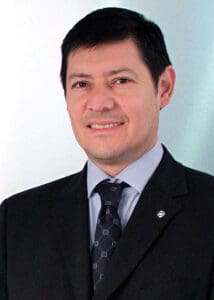 Current Finance VP Jett Johns appointed VP, finance, Nissan Europe
FRANKLIN, Tenn. – Nissan today announced that Carlos Servin, currently regional vice president of finance at Nissan Mexicana (NMEX) and Latin America, has been named vice president of finance for Nissan Americas, effective Jan. 14, 2013.
"Carlos' work at NMEX and Latin America led to enhanced financial processes and a more efficient reporting system," said Scott Becker, Nissan's senior vice president of administration and finance. "His strategic mindset is a valuable asset, and we look forward to working with him to help meet our midterm business plan goals."
Servin joined NMEX in 2008 as director of finance and became regional vice president of finance in 2012. Before his career with Nissan, Servin worked with the Ford Group in Mexico as the global director for financial planning of Volvo. He also spent time on special assignment with Ford in the U.S. as a controller for the general & administrative group.
Servin replaces Jett Johns, who has been appointed vice president of finance at Nissan Europe. In his new role, Johns will be based in Rolle, Switzerland.
"Jett made great contributions to the Americas team by driving profitability, improving processes and building a strong finance organization," Becker said. "I am confident Jett will continue this success in his new role at Nissan Europe."
Johns joined Nissan in 2006 as director of manufacturing finance and has driven process improvements throughout the finance organization. Previously, he was director and group controller for Square D. Company and Schneider Electric.
About Nissan Americas
In the Americas, Nissan's operations include automotive styling, engineering, consumer and corporate financing, sales and marketing, distribution and manufacturing. Nissan is dedicated to improving the environment under the Nissan Green Program 2010 and has been recognized as a 2010 ENERGY STAR® Partner of the Year by the U.S Environmental Protection Agency. More information on Nissan in North America, the Nissan LEAF and zero emissions can be found at www.nissanusa.com.
About Nissan
Nissan Motor Co., Ltd., Japan's second largest automotive company by volume, is headquartered in Yokohama, Japan and is an integral pillar of the Renault-Nissan Alliance. Operating with more than 248,000 employees globally, Nissan provided customers with more than 4.6 million vehicles in 2011. With a strong commitment to developing exciting and innovative products for all, Nissan delivers a comprehensive range of fuel-efficient and low-emissions vehicles under the Nissan and Infiniti brands. A pioneer in zero emission mobility, Nissan made history with the introduction of the Nissan LEAF, the first affordable, mass-market, pure-electric vehicle and winner of numerous international accolades including the prestigious 2011 European Car of the Year award.
For more information on our products, services and commitment to sustainable mobility, visit our website at http://www.nissan-global.com/EN/.
The Digital Dealer Virtual Expo Runs Wednesday Dec 5th – 11th, 2012 | Dealership Personnel Register Free
Author: