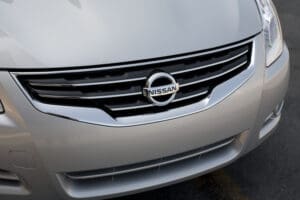 FRANKLIN, Tenn. — In celebration of the Nissan Altima's sales success over the past two decades, Nissan today announced a special "20th Anniversary Package" for its 2012 Nissan Altima Sedan.  Total Altima sales in the United States have topped 3.6 million since its introduction in September 1992, making it one of the best-selling vehicles in Nissan history.
The special 20th Anniversary Package includes 16-inch aluminum-alloy wheels, fog lights, rear spoiler, automatic auto on/off headlights, leather-wrapped steering wheel, Bluetooth® Hands-free Phone System, HomeLink® Universal Transceiver and additional equipment.  It is offered at a high-value price of just $950 USD MSRP, which represents a savings of $900 USD (versus items ordered separately).  Customers will be able to configure their Altima 20th Anniversary Package models beginning November 18th, with vehicles arriving at Nissan dealerships nation wide in the second half of the month.
Altima, which is now in its fourth generation, is the best-selling nameplate in the Nissan lineup and brings many first-time Nissan buyers into the brand.  It has also been the second best selling car in the U.S. in 2011 (through October, trucks excluded), ahead of Honda Accord, Hyundai Sonata and Ford Fusion.  Sales in 2011 to date are up 18.3 percent.  Altima has also won numerous awards from independent consumer organizations in recent years.  Altima has also been made in the United States throughout its history, originally in Smyrna, Tenn. and later Canton, Miss. (in addition to Smyrna) and is now exported from the U.S. to many countries around the world.
"We want to acknowledge Altima's first two decades and how much it has meant to the company – and reward loyal Altima customers with this special 20th Anniversary equipment package," said Al Castignetti, vice president and general manager, Nissan Division, Nissan North America, Inc.  "From its uncertain beginnings, Altima has grown to be a real power nameplate for Nissan in the competitive mid-size segment – a position we intend to hold for many more anniversaries to come."
A Risky Introduction in 1992
As a little known point of trivia, when the original Altima appeared in mid-1992 as a 1993 model, it officially carried two names and two badges – Altima and Stanza.  Though the Stanza name was there more for regulatory compliance than a lack of confidence in renaming the middle vehicle in Nissan's longstanding Sentra-Stanza-Maxima three-sedan lineup, there were concerns at the time about the public's acceptance and ability to pronounce the new Altima name – enough that guidelines were distributed explaining the proper syllable emphasis.  The concern was ill-founded, as Altima had an almost immediate impact on the mid-size sedan segment, which at the time was dominated by the Honda Accord and Toyota Camry.
The first generation Altima, which was sold during model years 1993 to 1997, featured a 150-horsepower 2.4-liter 4-cylinder engine, 15-inch wheels and then somewhat radical "rounded" styling created by Nissan's California design studio.
The second generation Altima followed in 1998 and was produced through the 2001 model year.  Once again designed inCalifornia and manufactured in Tennessee, it had more power (155 hp by 2000) and a more responsive driving feel.  It also offered a much more comfortable interior, a higher quality feel and additional equipment options.  For 2001, the first Limited Edition model was introduced, which would become an important part of Altima's value pricing strategy in the years that followed.
Third Generation Becomes A Real Game Changer
While the first two generations of Altima laid the foundation – and were very successful compared with the previous Nissan Stanza – the third generation really put Altima on the map (and customer shopping lists).
Built on an all-new platform, it was produced in model years 2002 through 2006.  This new design had up to 18-inch wheels and was the first Altima series to offer a 3.5-liter V6 in addition to its now 2.5-liter 4-cylinder engine.  It also featured a larger interior, improved handling and more aggressive styling.  With consistently strong reviews by media and consumers alike, Altima helped lead Nissan's product resurgence in the early part of the new century.
"The concept behind the third generation Altima styling and engineering was simple – stop copying Accord and Camry, as we had been doing, and carve out fresh territory of our own," explained Castignetti.  "We brought the 2002 Altima to market under the banner of 'The Cure for the Common Sedan,' letting people know that they could continue to blend in with the crowd, or stand out with Altima's more aggressive styling and driver-rewarding performance.  With this vehicle, Nissan found its own identity in the mid-size sedan segment, which continues to drive its popularity today."
The 2002 Altima was named "North American Car of the Year," the first Asian nameplate to win the coveted award voted on by a panel of 50 independent auto writers from the United States and Canada.  It was also named 2002 "Best of the Year" by MotorWeek on PBS.  And, for the first time the automotive media deemed that Altima was not only an alternative to the leading mid-size sedans, it was equal to or better than the longstanding sales leaders in the segment. A sporty SE-R model also made an appearance in the lineup in the 2005 model year.
New Coupe and Hybrid Models Join the Lineup
The fourth and current generation Altima design (2007 to present) has far outpaced all of its predecessors, offering more of just about everything – including the addition of a dramatic new Altima Coupe for the 2008 model year.  Unlike most coupe models in the class, which merely took their sedan model and removed the rear doors, the Altima Coupe featured unique bodywork from the A-pillar back and was designed inside, out and underneath to offer a more sporty style and performance to match the desires of 2-door Altima buyers.
An Altima Sedan Hybrid was introduced in 2007 and continued through 2011, with availability limited to a small number of states.  The Altima Hybrid powertrain mated a specialized version of Nissan's QR25 2.5-liter 4-cylinder engine and standard electronically controlled CVT with an advanced electric drive motor/generator.  This combination increased fuel economy while maintaining low tailpipe emissions.
Going Stronger Than Ever in 2012
In 2012, Altima continues to provide an innovative, standard-setting combination of quality, exhilarating performance, sporty appearance and exceptional value in the mid-size sedan class.  Its design is still highly distinctive, and it still offers excellent driving dynamics with competitive fuel economy – all at a great price value, including the new 20th Anniversary Package.
And, in a departure from its somewhat barebones original model, the 2012 Nissan Altima today offers a range of advanced comfort and convenience features, including available Nissan Intelligent Key®, Bluetooth® Hands-free Phone System, Bluetooth® Audio Streaming, RearView Monitor and Nissan Navigation with XM NavTraffic® and NavWeather™ Real-Time Traffic Information services (XM® subscription required, sold separately).
"What started as a challenger to the mainstream sedans has now become one of the true anchor vehicles in the segment, pushing for the top sales position throughout much of this past spring and summer," said Castignetti.  "What's most encouraging, of course, is that Altima still has nothing in common with the common sedan and stands out as a cut above the ordinary for people who want more style, power, comfort and value.  It's innovation that lasts, innovation for all."
About Nissan North America
In North America, Nissan's operations include automotive styling, design, engineering, consumer and corporate financing, sales and marketing, distribution and manufacturing.  Nissan is dedicated to improving the environment under the Nissan Green Program 2010 and has been recognized as a 2010 and 2011 ENERGY STAR® Partner of the Year by the U.S. Environmental Protection Agency.  More information about Nissan in North America and the complete line of Nissan and Infiniti vehicles can be found online at www.NissanUSA.com and www.Infiniti.com.
About Nissan
Nissan Motor Co., Ltd., Japan's second largest Japanese automotive company by volume, is headquartered in Yokohama, Japan and is an integral pillar of the Renault-Nissan Alliance. Operating with more than 150,000 employees globally, Nissan provided customers with more than 4 million vehicles in 2010.
With a strong commitment to developing exciting and innovative products for all, Nissan delivers a comprehensive range of fuel-efficient and low-emissions vehicles under the Nissan and Infiniti brands.  A pioneer in zero emission mobility, Nissan made history with the introduction of the Nissan LEAF, the first affordable, mass-market, pure-electric vehicle and winner of numerous international accolades including the prestigious 2011 European Car of the Year award.
For more information on our products, services and commitment to Sustainable Mobility, visit our website at http://www.nissan-global.com/EN/.
Author: