Product surge comes amid third year of consecutive retail sales gains for both brands
DETROIT – Buick and GMC told dealers today that it will introduce nine new or significantly updated models in the next 12 months, starting with the new Buick Enclave luxury crossover SUV and GMC Acadia crossover SUV this fall.
The new Buick Encore small luxury crossover, which will be priced at $24,950 including a $750 destination charge, arrives in early 2013. A Buick Regal luxury sport sedan, Buick LaCrosse luxury sedan, GMC Sierra and Sierra HD full-size pickups, as well as GMC Yukon and Yukon XL full-size SUVs will arrive next year.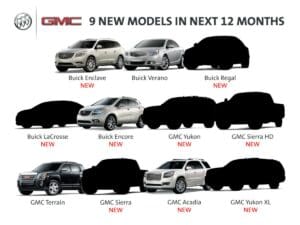 In addition to these nine models, GMC will offer luxury-appointed Denali versions of its four upcoming vehicles and a new 2.0L turbocharged powertrain will be available in the Buick Verano this year.
By the end of 2013, the oldest non-commercial models in a Buick/GMC showroom will be the Buick Verano luxury sedan and GMC Terrain small SUV. Verano has been in dealer showrooms for less than a year and has gained sales volume every month since launch. Terrain arrived as a 2010 model and is on pace for its best sales year ever in 2012. A new Denali luxury trim level recently was added.
GMC also announced the return of the GMC Canyon midsize pickup as an all-new model to be built in Wentzville, Mo. Arrival timing will be announced later.
"While we continue to make strong progress in fuel economy gains on our full-size trucks, we know that there is a group of customers who want the functionality of a truck but may not need full-size pickup," said Tony DiSalle, vice president of Buick and GMC Marketing. "We believe that introducing a new, agile and efficient mid-size Canyon will meet the needs of many pickup buyers."
Buick and GMC have grown together as distinctly different but complementary brands. Together, they have sold more than 400,000 vehicles so far this year, a pace that should allow each brand to achieve a third consecutive year of sales gains.
"We're not only selling more vehicles, we're bringing new customers to the Buick and GMC showroom," said Brian Sweeney, vice president of Buick and GMC Sales and Service. "Both brands report more than 40 percent conquest sales. Buick was the only automotive brand in the United States to reduce the average age of its buyer during the past five years, and GMC continues to attract more female buyers and – with Denali vehicles – more import and luxury owners.
Overall, General Motors will have 70 percent all-new or significantly refreshed products across its four U.S. brands in 2012-2013.
About Buick
Buick is a modern luxury brand offering vehicles with sculpted designs, luxurious interiors with thoughtful personal technologies, along with responsive-yet-efficient performance. Buick is attracting new customers with its portfolio of award-winning luxury models, including the Enclave crossover, LaCrosse sedan, Regal sport sedan, Buick Verano sedan and the all-new 2013 Encore crossover. Learn more about Buick cars and crossovers at www.buick.com, on Twitter @buick or at www.facebook.com/buick.
About GMC
GMC has manufactured trucks since 1902, and is one of the industry's healthiest brands. Innovation and engineering excellence is built into all GMC vehicles and the brand is evolving to offer more fuel-efficient trucks and crossovers, including the Terrain small SUV and Acadia crossover.  GMC is the only manufacturer to offer three full-size hybrid trucks with the Yukon, Yukon Denali SUVs and the Sierra pickup. The Sierra Heavy Duty pickups are the most capable and powerful trucks in the market. Details on all GMC models are available at http://www.gmc.com/, on Twitter at @thisisgmc or at http://www.facebook.com/gmc.
Author: