TrueCar, Inc. the automotive pricing information and analysis company that creates a better buying experience for dealers and consumers, estimated today that the average transaction price (ATP) for light vehicles in the United States was $31,088 in July 2013, up $360 (1.2 percent) over July 2012; and down $37 (-0.1 percent) from June 2013.
"Despite the sizable increase in incentives spending compared to last year's levels, average transaction prices for the industry remained flat at near record territory, indicating the continued consumer preference for highly contented small vehicles on the one end and the strengthening of the full size truck segment on the other," said Jesse Toprak, senior analyst for TrueCar.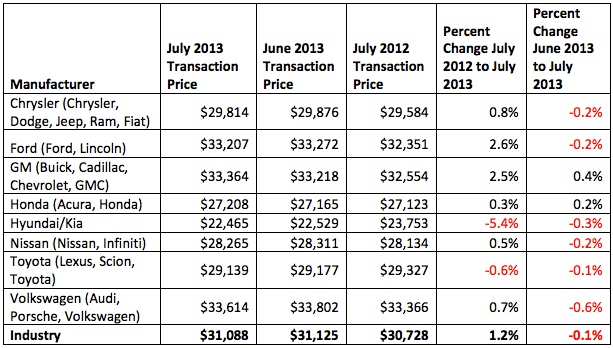 In addition, TrueCar estimated that the average incentive for light vehicles was $2,684 in July 2013, up $190 (7.6 percent) from July 2012; and up $19 (0.7%)from June 2013.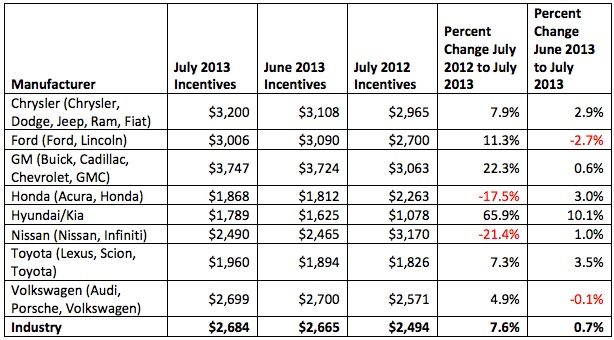 TrueCar estimated the ratio of incentives to average transaction price for light vehicles was 8.6 percent in July, up from 8.1 percent in July 2012 on par with June 2013.
"With more than a 17% decline in year-over-year incentives, Honda continues to maintain transaction prices with limited incentives and nominal fleetsales. Those two factors continue to drive improvements in profitability for Honda," said Toprak.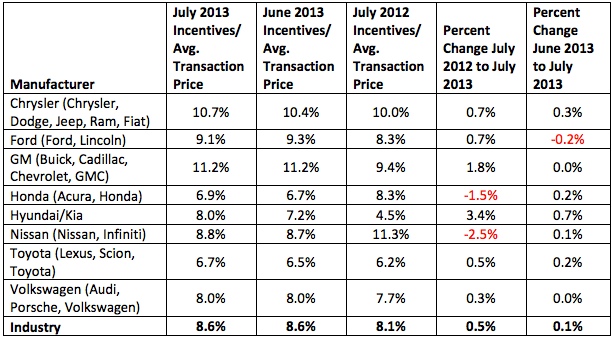 About TrueCar, Inc.
TrueCar, Inc., headquartered in Santa Monica, Calif., with offices in Santa Barbara, Calif., San Francisco, Calif., and Austin, Texas, is an automotive pricing information and analysis company that creates a better buying experience for dealers and consumers. As an online publisher of unbiased new and used car transaction data, TrueCar.com provides price reports that empower dealers and consumers to agree on the parameters of a fair deal by supplying a transparent, simple understanding of what others recently paid for similarly-equipped new cars in their geographic area. TrueCar also owns ALG, the benchmark for vehicle value information to the automotive industry and has been forecasting residual values for nearly 50 years in both the U.S. and Canadian markets.
TrueCar is a data-driven company that sources, compiles, and analyzes car-buying information unlike anybody in the industry. This is why, since its founding in 2005, TrueCar dealer partners have sold nearly 700,000 vehicles across the country. Its national network of more than 6,100 Certified Dealers is committed to provide no-hassle pricing for some of the country's largest membership and service organizations, including American Express, AAA, USAA and Consumer Reports that collectively represent more than one million monthly in-market customers.
Author: