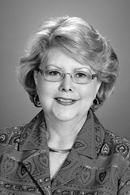 Overland Park, Kansas – NCM Associates today announced it has hired Gloria Cherafat as a consultant for its expanding Travel Solutions division. Ms. Cherafat brings over 15 years of travel industry experience to a new position where she will focus on the leisure travel needs of NCM's Travel Solutions clientele. A world traveler, Cherafat has extensive cruise industry experience and has also lived abroad. Travel Solutions has served the business travel needs of thousands of retail automotive dealership personnel since its inception in 1997. Gloria joins Travel Solutions manager Susy Campbell and consultant Nikki Kiser at the company's corporate headquarters in Overland Park, Kansas.
President and CEO Paul A. Faletti Jr. announced NCM's anticipated expansion into leisure travel earlier this year at the employee-owned company's quarterly staff meeting where he laid out NCM's goals and objectives for 2013. He noted NCM's Travel Solutions business had grown considerably over the last two years, adding over 1,400 new clients while concentrating primarily on the business travel needs of its customers. At that time, he explained the company's search was underway for a leisure travel specialist to also assist its clients with their vacation travel needs.
Gloria Cherafat joins NCM Associates as a leisure travel consultant for NCM Travel solutions divisionWhile announcing the company's expansion into leisure travel, Faletti expressed confidence in the Travel Solutions team to build on its stellar reputation in this new area of opportunity. "While Susy and Nikki have done an exceptional job growing the business travel segment, they simply did not have the resources required to make a full-service leisure travel solution available to those who were requesting vacation travel assistance," Faletti said. "With Gloria's background in vacation sales and marketing and her extensive travel experience, we are now equipped to provide a new level of service and offer added value for our Travel Solutions customers," he added.

Gloria Cherafat
Cherafat was formerly the Director of Vacation Sales for Global Connections Inc. Prior to that, she held positions with Passport Travel and American Express Travel where she designed customized itineraries for seasoned travelers.
To learn more about NCM Travel Solutions, visit www.ncmtravelsolutions.com or call 800.242.3260.
About NCM Associates, Inc.
NCM Associates, Inc. is the originator of the automotive industry 20 Group peer collaboration process and has been providing dealership Benchmark® analytics, Education and Retail Operations Consulting services to the industry since 1947. Located in Overland Park, KS, NCM provides a robust suite of services designed to drive dealership profitability using its proven, operations-focused Benchmark® for Success program with new and pre- owned U.S. automotive dealerships, as well as with dealerships in more than 20 other industries. NCM
Associates is proud to be 100% employee-owned. For more information about NCM Associates, visit www.ncm20.com or call 800.756.2620.
Author: