As the world's most visited web site – the advertising opportunities on Facebook are endless. From earned media, to promoted media to paid media, Facebook offers automotive dealers and managers opportunities to engage customers, create connections and promote content and material like no other site on the Internet.
The Facebook auto team will take you step by step through each of these opportunities and show you exactly how to engage your customers. Generating the maximum return on investment will take the right tactics and technology. Haystak Digital Marketing shares the tactics and technology they use to create high ROI social media campaigns for auto dealers around the globe. Jason Wiley is sharing his expertise with you.
What will you learn and what action items will you take back to the dealership?
1. Learn how social marketing fits into today's dealership's marketing plan.
2. Learn how to target existing customers and acquire new ones through Facebook.
3. Learn how to build an effective social marketing plan balancing earned media and paid media.
4. Learn about the software and services today's top social agencies use and how you can tap into the power of that software for next to nothing.
5. Learn how to determine the ROI of your social marketing investments.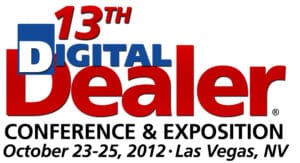 Jason Wiley is the national sales director for Haystak Digital Marketing. Haystak is one of only 16 Google Adwords Premier SMB Partners in all of North America and it's the only SMB Partner that started out as a full-service automotive advertising agency. Wiley has been around the car business since a child, and has worked full-time in the automotive industry since 1999. He's been the director of sales and marketing at numerous successful automotive vendor companies and also co-owned his own full-service automotive advertising agency. His core values have always been combining advanced technology with old-fashioned customer service. As such, Wiley has been part of an amazing team of individuals who have helped advance Haystak into being the leading provider of digital marketing services to the automotive industry.
A 13th Digital Dealer® Conference & Exposition Featured Speaker: Jason Wiley presents:  Tapping into the Power of Like: Facebook Advertising Strategies & Tactics: Learn the ins and outs of the numerous advertising opportunities Facebook offers dealers.
We're building out the agenda, selecting speakers and topics for more than 100 sessions that are laser-focused on all things digital.
The Digital Dealer Conference & Exposition is the premier educational conference and expo dedicated to Internet and technology solutions for automotive professionals. Digital Dealer events deliver the largest array of speakers, peer to peer opportunities, and exhibit hall offerings – all carefully designed to impart cutting edge business strategies. With an audience of the industry's most progressive dealers and managers and the most innovative conference format, Digital Dealer provides the ultimate learning and networking environment.  For more information, visit:  www.DigitalDealerConference.com
Author: