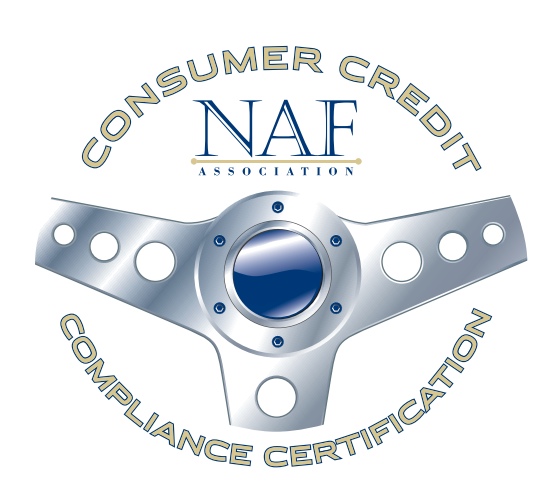 Thanks to the NAF Association Board and the Founding Sponsor companies, a new industry compliance certification program has been established. The Consumer Credit Compliance Certification will provide executives responsible for compliance within the auto finance sector a comprehensive educational program that addresses all the federal and state laws and regulations that affect the auto financing industry.
The Consumer Financial Protection Bureau (CFPB) expects a Compliance Management System to be functioning in all of its "supervised" companies. This certification will extensively complement a company's current compliance program by being able to confirm that a company's compliance officer(s) has completed a 35-hour program, has been tested and passed on its content. This will be significant when a CFPB examination occurs.
"Leaders in the auto lending industry have to start showing their commitment to building a healthier and more sustainable marketplace that makes it easier and affordable for consumers to finance vehicles. The NAF Association believes the certification of future leaders is the first step in achieving these conditions." Steve Hall, President of NAF Association.
The respected law firm of Hudson Cook, LLP has developed the extensive program curriculum. The certification consists of four modules – two presented in an in-person classroom setting and two in an online format taken at the student's own pace. Each module includes multiple sessions, with each session providing a thorough overview of the applicable law or regulation. The online sessions are followed by an online test that must be passed to receive credit for the session.
The program will provide the student with a comprehensive knowledge of consumer credit laws and regulations, preparing graduates to perform in a compliance management role. The course work is rigorous. It is estimated that there will be 15 hours of classroom work, and 30 minutes to an hour to complete each of the 26 online sessions.
After successfully completing the program, the graduate will be recognized as a Certified Consumer Credit Compliance Officer. In order to maintain the Certified Executive status students must attend a continuing education class every two years. The continuing education will provide updates on statutory and regulatory requirements, and continuing developments.
"Finance companies are looking for people who are compliance knowledgeable and trained, to assist them in conforming to federal and state compliance requirements. We are proud that the Association is able to offer such an in-depth program," stated Jack Tracey, Executive Director of NAF Association.
This program will be available to compliance staff of NAF Association member companies at the price of $2,000 and non-member companies at $2,600.
The NAF Association is again delivering a quality service to its membership and the auto finance industry.
For Certification registration: http://nafassociation.com/certs.php
For more information on the Consumer Credit Compliance Certification Program contact Jack Tracey, 410-865-5431 or jtracey@nafassociation.com.
About NAF Association
The National Automotive Finance Association believes that every consumer with the desire and means to purchase a vehicle should have fair, responsible and reasonable access to automotive financing. We believe a healthy and sustainable non-prime automotive marketplace is driven by ethical and responsible practices. The National Automotive Finance Association is the advocate and the voice for these practices and leading the way in building a forum of transparency and trust for all industry stakeholders: lenders, dealers, suppliers, shareholders and regulators.
Author: