Stu Zalud, NADA Used Car Guide executive will teach you how to protect and leverage the data that you already have to improve your dealership's effectiveness and profitability. It may seem complicated, but Stu will sort it out in laymen's terms, show you a data sharing agreement that protects you and demonstrate how sharing your data can benefit you.
Have you ever asked your DMS vendor who has access to your data? Do you really know how your data is being used and by whom and for what reason? How accurate is the data you are using? Is there an advantage for you to allow access and what do you get in return? You will learn about data agreements allowing access and solutions that are written to protect you. See the benefits of sharing with a third-party who in return provides an analytic tool that uses your own data to benchmark your variable departments and the competition. Stu Zalud is sharing his expertise with you.
What will you learn and what action items will you take back to the dealership?
1. Learn how to protect your data.
2. Learn how to understand who is using your data, how it is being used, and for what reasons.
3. Learn how accurate data can help improve vehicle valuations.
4. Learn to use your data to better manage your variable operations.
Leveraging over 30 years of automotive retail experience, Stu Zalud brings a dealer-focused perspective and insight to his role as director of dealer services for NADA Used Car Guide. Zalud joined NADA in this newly created position in April 2007 and is responsible for promoting NADA Used Car Guide's data and services to franchised and independent dealers, presenting at various industry events, and contributing to the development of future products and services to meet changing dealer needs. Zalud's previous experience includes 30 years as an Oldsmobile and Pontiac dealer in Cleveland, Ohio and eight years as a Cadillac dealer in Hilton Head, South Carolina. In addition, he served on the NADA Board of Directors, NADA Used Car Guide Board of Advisors, and as chairperson of both the Greater Cleveland and Ohio Automobile Dealers Associations. He served a five-year term as a member of Ohio's Dealer Licensing Division of the State.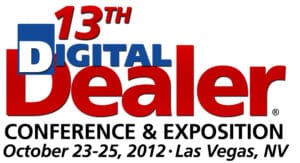 A 13th Digital Dealer® Conference & Exposition Featured Speaker: Stu Zalud presents:  Optimizing the Power of your Data.
We're building out the agenda, selecting speakers and topics for more than 100 sessions that are laser-focused on all things digital.
The Digital Dealer Conference & Exposition is the premier educational conference and expo dedicated to Internet and technology solutions for automotive professionals. Digital Dealer events deliver the largest array of speakers, peer to peer opportunities, and exhibit hall offerings – all carefully designed to impart cutting edge business strategies. With an audience of the industry's most progressive dealers and managers and the most innovative conference format, Digital Dealer provides the ultimate learning and networking environment.  For more information, visit:  www.DigitalDealerConference.com
Author: