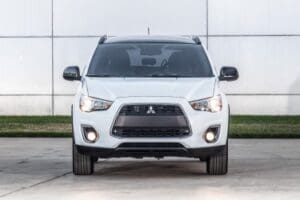 CYPRESS, Calif. — Mitsubishi Motors North America (MMNA) today reported November sales of the Outlander Sport were up 34.2 percent compared to November 2011.
Outlander Sport sales were 1,520 for the month, the fourth highest monthly total this year for sales of the fuel-efficient CUV, now manufactured in Normal, Illinois.  Year-to-date, Outlander Sport sales are up 9.5 percent compared to the same period a year ago.
"We are encouraged at the consistent sales performance of the Outlander Sport, our top seller in the U.S," said MMNA President & CEO Yoichi Yokozawa.  "It bodes well for our next generation 2014 Outlander, which we unveiled to the U.S. media last week."
That announcement came at the Los Angeles Auto Show, where MMNA also said it is bringing a Limited Edition version of the 2013 Outlander Sport to market to commemorate Mitsubishi's arrival in America 30 years ago.  The Limited Edition will feature dynamic enhancements of the exterior and interior of the vehicle, as well as enhanced engine performance.
Lancer sales were up 16.3 percent for the month, and Lancer Evolution sales improved 9.1 percent.
Overall Mitsubishi sales were 3,574 units, down 4.3 percent compared to November 2011.  That total however is impacted by models that ended their production in 2011.  Total sales of models currently in production were up more than 16 percent for the month compared to last November.
Mitsubishi Motors North America, Inc., (MMNA) is responsible for all manufacturing, sales and marketing operations for Mitsubishi Motors in the United States.  MMNA sells cars and light trucks through a network of approximately 400 dealers.  For more information, contact the Mitsubishi Motors News Bureau at (888) 560-6672 or visit media.mitsubishicars.com.
SOURCE Mitsubishi Motors North America
Author: